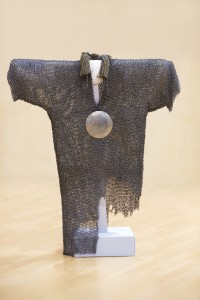 A coat of chain mail armor from
the Genghis Khan exhibt now on
display at HMNS. Find out more
here
As the Houston Museum of Natural Science prepares to show the sequel to the hugely popular Night at the Museum, I could not help but think how interesting a "day at the museum" sometimes can be as well. I am not just talking about the different exhibits we currently have at the museum, but also what is going on at the museum behind the scenes.
I have often thought that one of the taglines associated with the museum should be "never a dull moment." Here is why I think that would be particularly appropriate: consider Tuesday, February 24, 2009. On that day, a crew of museum people as well as representatives from museums in Mongolia and Russia were busy putting the final touches to the Genghis Khan exhibit. That day, we also received the Mongolian ambassador to the US, H.E. Ambassador Khasbazaryn Bekhbat, who was traveling to Houston for the formal opening of the exhibit two days later. Accompanying him was the second secretary of the Mongolian embassy, Dawadash Sambuu. In the weeks leading up to the opening of the exhibit, he had been very busy working in Houston, helping with the set up of the show. Representing the Hermitage Museum, Dr. Mikhail Piotrovsky, flew in from St. Petersburg, Russia that day as well.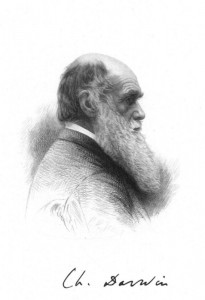 Also on February 24, the museum hosted a lecture as part of the year-long Darwin celebrations. Joining us that day was Dr. Francisco Ayala.  He came in to talk about his research into evolution. Dr. Ayala, a recipient of the National Medal of Science, recently published a book on this subject, entitled Darwin's gift to science and religion. In a well-attended lecture in the museum's IMAX movie theater, Dr. Ayala carefully explained his reasons why science and faith can go hand in hand. Dr. Ayala took time to meet with High School students from the Houston area, who are participating in the museum's Young Scholars program. In a closed meeting preceding his talk, Dr. Ayala explained how he got interested in his field of study and what one needs to do in order to achieve what he did.
On February 24, the museum hosted Mongolian diplomats, a Russian museum official, and a Spanish-born geneticist. While this kind of line up does not happen every day, it does occur often enough to warrant what I wrote earlier: "never a dull moment at HMNS."