This post is by Sibyl, the museum's volunteer recruiter. She's been keeping us posted on the progress of the little bearded dragon babies that were laid in her office.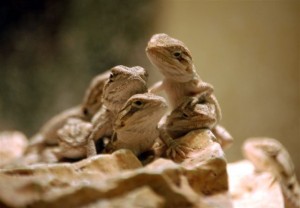 Thank you to everyone who entered the drawing in hopes of winning one of the HMNS baby beardies!  It was exciting to see how many reptile lovers there are between HMNS staff members, volunteers and patrons! 
I wish we had a clutch of babies large enough to provide a baby for each of those entering the contest.  Though we are truly sad to see them leave the Volunteer Office, we are very thankful to know our eight babies have each found a nice home and nurturing parents to take care of them!
Congratulations to the winners of the first generation of HMNS baby beardies!
Kenneth Collins
Gladys Arakelian
Jeremy Gray
Rhian Farley
Jeanene Goza
Nadine Mc Clary
Bob Hopkins
Dee Sorrick
Thank you so much for your support towards the HMNS Capital Campaign!