The Houston Museum of Natural Science was founded in 1909 – meaning that the curators of the Houston Museum of Natural Science have been collecting and preserving natural and cultural treasures for a hundred years now. For this yearlong series, our current curators have chosen one hundred exceptional objects from the Museum's immense storehouse of specimens and artifacts—one for each year of our history. Check back here frequently to learn more about this diverse selection of behind-the-scenes curiosities—we will post the image and description of a new object every few days.
This description is from Dirk, the museum's curator of anthropology. He's chosen a selection of objects that represent human cultures throughout time and around the world, that we'll be sharing here – and on hmns.org – throughout the year.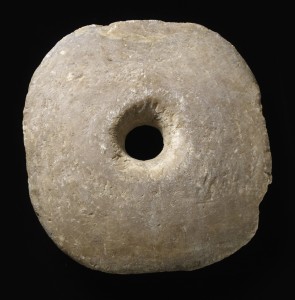 So how do you count your riches? If you are an inhabitant of the Pacific island of Yap, the answer would be simple: look out of your window and count the circular stones lining your garden. Different cultures have different ways to represent monetary value.
The inhabitants of the Pacific Island of Yap chose stone as a medium to express this. As stone was not available on all islands and had to be transported by canoe, the larger the stone, the greater the effort and therefore also the value of the "coin."
Considering the size of the stone we have in our collection, and comparing it against others that are much bigger – what we have might be called "small change."
Explore thousands of years of Native American history in the John P. McGovern Hall of the Americas, a permanent exhibition at the Houston Museum of Natural Science.
You can see more images of this fascinating artifact – as well as the others we've posted so far this year – in the photo gallery on hmns.org.