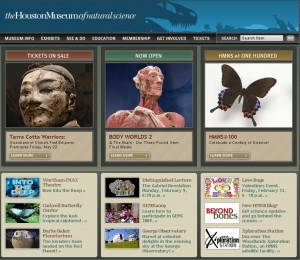 HMNS.ORG today.
So, the next time we do a survey of our online visitors, it should include the question "What do you call a group of people who interact online?" The closest I could find was onliners, though this really refers to something much more specific. I also liked "online hero" – because it seemed like an apt description for the awesome people who took the time to help us out by answering some questions about their online activities.
Clearly there is a gap in dictionary.com – this needs to be rectified. Ideas, anyone?
In the meantime, I'm happy to announce that the randomly selected winner of the iPod Touch is Brandi Roberson. Congratulations, Brandi!
Since so many of you (almost 2,000!) took the time to answer our questions about what you like to do online, I thought I would share some of the trends with you here.
The most interesting answers came in response to the open-ended final question, "What – if any – new features would you like to see added to www.hmns.org?" They included gems like "More Robots!" (um…ok?)and "Gravity!" (more details, please) as well as tons of great ideas – like an online gift shop, webcams, virtual tours, member-specific content, the ability to review exhibitions, RSS feeds, social networking, increased interaction in general and much more.
Other interesting tidbits: you're young (over half between 25 – 44) and you really like the Internet (99% use it either "constantly" or daily" – though I suppose it might be more surprising if you didn't). You like Facebook waaaay more than MySpace (by a margin of 35%) and 1.6% are still stuck with dial up. You're creative – 35% are creating content on Flickr, YouTube or Twitter.
15% of you stop by our web site for more information about an exhibit after you visit the Museum in person – a scenario we generally have not considered with regards to the information available online. I can assure you we are considering that now – along with all of the other needs and preferences you shared – as we work on improving our online programs. Thank you!
If you missed the survey, or if you have any further ideas you'd like to share, please do so in the comments. We would love to hear from you!