Charles Darwin turns 200 this year – and in a neat coincidence, his book On The Origin of Species is 150 this year as well. (Very considerate of him to wait exactly 50 years to publish, so we can celebrate all at once.)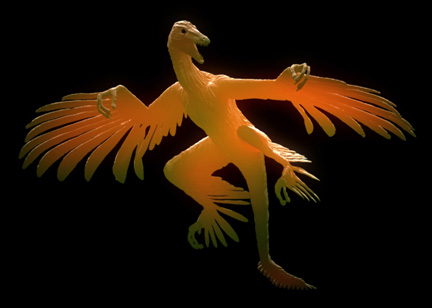 That's one angry-looking turkey.
From National Geographic's 
Morphed: From Dinosaur to Turkey
Darwin's theories continue to revolutionize science – and as you might have noticed, they're still kind of controversial, even a century and a half later.
This weekend, National Geographic is coordinating a live blogging event where you'll have the opportunity to debate the facts and ask questions of several experts on the subject.
Check out their blog for the experts' bios and information about the event; you can also submit questions in advance. it's taking place this Sunday, Feb. 8 at 6 p.m. CT/7 p.m. ET in conjunction with the premiere of Morphed, a new series showing various species evolve as natural forces impact them over millions of years.
If that's just not enough Darwin for you, come to the Museum this weekend for Darwin Day! You can see live animals, study adaptations in insects, and help create an evolutionary timeline that runs the length of the entire Museum, meet paleontologists, and explore representations of human evolution. In conjunction with Darwin2009, we're also hosting Darwin-related lectures and classes all year long. You can also read more about Charles Darwin in anthropology curator Dirk's post, An 'Aha" Moment Worth Celebrating.