While I was out having a "babe" of my own, look what the Education department had…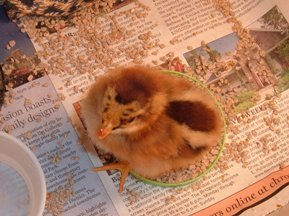 A chick!
Now, the collective "awww"…
This little chick is an end result of a Dissection Lab called "The Yolk's On You." Yes, dissection, but the class was about eggs – not chicks. In addition to dissecting both hard boiled and raw chicken eggs (unfertilized), students were able to observe fertilized chicken eggs in an incubator. One of the demonstrations the teacher did was to place raw eggs in vinegar a few days before class. If you haven't tried this at home, you ought to, it's really neat.
It is even more interesting to take an egg once soaked in vinegar and place it in corn syrup. I won't tell you what happens, since hands-on science is way more fun! From an educational standpoint, it is a good activity to illustrate diffusion and osmosis.
Of course, I wouldn't recommend eating any of the eggs soaked in vinegar or corn syrup, but if you dissect the hard boiled kind with a kitchen knife, you can always make sandwiches! Bon appetit!