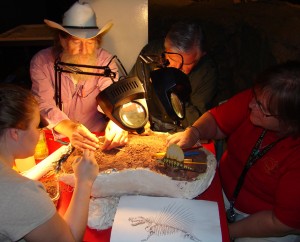 Dr. Bakker leads a group of volunteers in carefully
excavating a plaster jacket filled with fossils and
matrix from the Seymour dig site the team has
been reporting from this week. They're bringing
back several new jackets to work on over the
next few months.
Our paleontology team – led by Dr. Robert Bakker – is back in Seymour, TX this week, digging for Dimetrodon at a site they've now been working for several years. (You can read more of what's been found already in our daily blog from the field in 2007).
Today's update comes David Temple – our associate curator of paleontology and a one of our BEYONDbones bloggers. They're wrapping up the dig, and he fills us in on the progress from yesterday, as well as what's in store for the team today.
They'll finish jacketing and removing as many fossils as they can from the site, and prepare what's left to be sheltered until they return. They face two challenges: limited time and a paleontologist's worst nightmare: rain.
Click the podcast below to listen in:
You can also check out earlier updates from this dig trip:
Day One: Live from the Fossil Field
Day Two: The Smoking Gun
Day Three: New Discoveries
Day Four: Secondontosaurus Found?
Day Five: Mad Max
Day Six: Fossil Prep