Have you ever seen a piece of art or craft that you think to yourself "I could do that!" but of course you never act on it?  Well, some people do act on that impulse and I'm going to show you how to do just that. 
Every now and then I get a phone call from someone who has a deceased butterfly and they want to spread its wings so they can put it in some sort of shadow box for decoration.  This is always a fun phone call because it's kinda hard to explain the process of spreading a butterfly.  I usually end up inviting them up to the museum to watch me do it, but other times I just have to do my best at explaining it.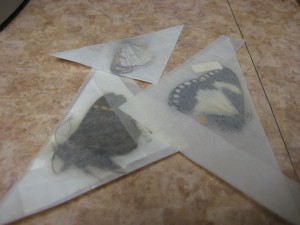 Papered Butterflies
Now, I do not spread butterflies at work for artsy reasons, but rather for scientific purposes.  We have a very large collection of "papered butterflies" that have not been spread yet.  (When I say "papered" I mean that they are in glassine envelopes awaiting curation, after which they will be placed in the collection – see the photo at right.)  These butterflies were collected by various individuals who never had the chance to process them –  which makes my job lots of fun because I get to do it! 
I have processed butterflies from places all over the world, Australia, India, and Peru to just name a few.  I remember spreading one that was collected in 1922.  You're probably thinking "How can you spread the wings of a butterfly that is 86 years old?"  Well, that's where we are going to start this butterfly-spreading lesson! 
1.  You have or have found a butterfly but it's wings and body are hard and all dried up.  You can't even open the wings.  This is typical, so no need to worry.  All you need to do is rehydrate the butterfly in a relaxing chamber.  If your butterfly is already flexible (you can slightly squeeze the thorax and the wings move) there is no need to relax it.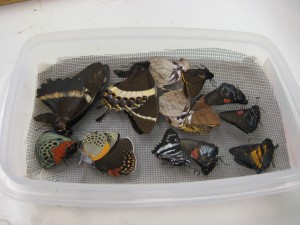 Relaxing Chamber
2.  The relaxing chamber is very easy.  You can use any type of air tight container – I use Tupperware.  Place 3-4 damp paper towels in the bottom of the container.  This creates humidity, which will seep into the butterfly.  You also need to add a cap full of either Listerine or Pine-sol.  These act as mold inhibitors so your butterfly doesn't get all yucky.  The last thing you need is something to prevent the butterfly from touching the paper towels.  I use wire mesh that I cut to the size of the container and put it on top of the towels.  I usually leave the butterfly in here for 2 days before I check on it. 
3. When you check on it, pick it up carefully with forceps or tweezers and hold onto the thorax.  Gently squeeze the thorax to see if it is flexible and the wings move a bit (This is very difficult to explain, so I'm sorry if it's hard to understand – if you have any questions please comment below).  It this occurs, you are ready to start, but if not – just leave the butterfly for another day and check again.  Sometimes it takes 5 days or so, so be patient. 
4.  Now, you need a large piece of Styrofoam covered with wax or tracing paper.  While you have the wax or tracing paper out, make sure to cut strips about 3 x 1 inches to be used later. This paper prevents the scales from rubbing off of the wings. 
5. Next, you will need some type of pin to put through the thorax.  We use pins purchased from bioquip specially made for insects, but you could probably use any type of long thin straight pin.  Put the pin straight through the middle of the thorax leaving about 1/4 of the pin on top.  While pinning the butterfly, you may need to open the wings a bit.  Do this with your forceps and try your hardest not to damage the wings.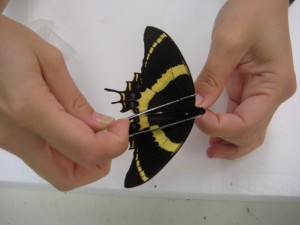 Opening the wings with forceps.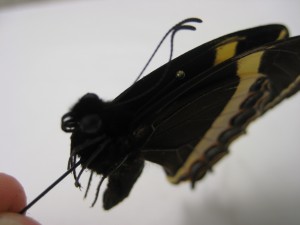 Put your pin through the thorax.
6.  This next part is different from the norm, but I think it's so much easier.  You are going to pin your butterfly upside down, so the pin head will be going into the Styrofoam instead of the sharp end.  Spread open your butterflies wings and gently poke the pin head into the Styrofoam.  Be careful not to poke your finger on the sharp end.  Now your butterfly should be completely flat.
7.  You will need more pins to do this next part.  Place the first two pins on both sides of the abdomen, right where it meets the thorax.  This prevents the butterfly from moving around when you try to move the wings.  Next, take a pin and find a vein in one of the forewings.  Gently use the pin to move the wing so that the bottom of the wing is perpendicular with the body.  When you get the wing to the correct position, take one of the strips of paper and put over the wing and use some pins to hold it in place.  Do not poke the pins through the butterfly wing. 
8. Now you are going to move onto the hind wing.  Use one of the pins to move the wing so that the top of it just covers the forewing and use the paper again to hold it in place.  Now you can move onto the other side.  The trickiest part here is getting both sides of the butterfly to be even.  This takes practice, so don't get frustrated.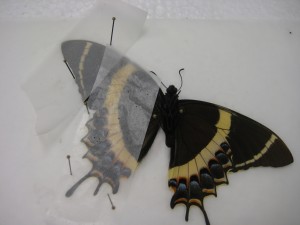 Halfway there!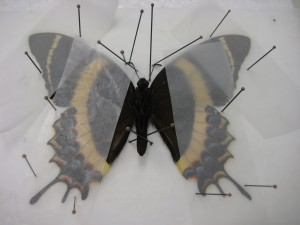 Both wings should be even.
9.  Just a few more things and you will be finished. If the antennae are still attached to the butterfly, you can pin them into place so that they are symmetrical. Remember the pins that you used a the beginning to keep the butterfly from moving?  You want to remove those and make a small teepee over the abdomen with them to prevent the abdomen from curling up. 
10.  Now you just wait!  I would wait about a week before checking things out.  When the week is over all you need to do is remove all the pins and paper, lift up the butterfly, turn it right side up and stick the pointy part of the pin in the styrofoam and VOILA!  your butterfly is ready!  Now you can put it into a shadow box or just keep it in your collection. 
I have a couple of last minute pointers before you go crazy with spreading butterflies:
– Patience is very important! 
– Butterflies are very fragile, so be extra careful. 
– If you break off an antennae or tear a wing, just glue it back on with elmers glue that has dried just a bit so it is sticky.
– if you have any questions please feel free to leave me a comment and I will do what I can to help!
I hope you enjoyed this little lesson and hopefully you will be a pro the very first time, but don't count on it!  It does take practice, so don't give up, keep on trying and remember to have patience!