Halloween is by far my favorite holiday.  I love that everyone, young & old alike, can dress up as just about anything from the classic witch to the random Roman column I spotted at last year's Spirits & Skeletons.  Each year is a new opportunity to unveil yourself as a superhero, an Indian princess, a mad scientist, or even a hideous monster. 
Let's focus on this last costume – the monster – the creepy, skin-tingling costume that never fails to invoke fear deep within us.  Why do we insist on wearing a scary costume?  Humans (and animals) have instinctual fears, a natural survival technique to avoid possible near-death situations, which includes dangerous animals.  Perhaps by dressing up as these scary beasts we can overcome our fears. 
Where does the inspiration for these beasts come from?  From nature, of course!  We see films or photos of animals in real life and can create a whole new monster with the help of our highly over-active brain, especially when watching a scary movie alone, at night, in the dark, with a full moon out, and possible werewolves ready to pounce at any moment!  Yikes!  Let's take a look at one creepy critter that resides here in the Museum – the super-slimy Caecilian!
We have a Mexican Burrowing Caecilian (pronounced sə-sĭl'yən) , Dermophis mexicanus, a legless amphibian from the order Gymnophiona.  They live underground in Central Mexico and can grow up to 2 feet long.  Their diet primary consists of small invertebrates, including termites and earthworms.  After an 11-month gestation period, they give live birth (most amphibians lay eggs) to between four and eleven young.  When presenting this amphibian to students, we discuss how is it different from other vermiform animals such as worms and snakes.  The kids usually determine that it has a backbone (worms are invertebrates) and that it is slimy, not scaly (reptiles have scales and are not slimy).  Our caecilian is a very shy, quiet animal that also happens to enjoy attempting great escapes.  I think it's a rather cute amphibian!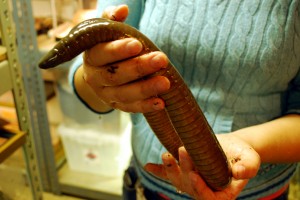 Our Mexican Burrowing Caecilian
There are over 150 species of caecilians, ranging along the tropics from South America to Africa.  They may be a dull grey or brown or even brightly colored purple, pink, orange, or yellow.  Most lack tails and all have tentacles, a specialized chemosensory organ near their nose that helps them to locate prey.  Many caecilians are nearly sightless, some without any eyes at all.  They may be aquatic, terrestrial, or fossoriallike our Mexican Burrowing Caecilian.  Depending on where they live, caecilians may be oviparous (egg-layers) or viviparous (live-bearers). 
Warning!! Here comes the creepy flesh-eating part of our story!!
In the womb, the developing caecilian embryos have specialized fetal teeth that allows them to stimulate secretions from the oviducts of their mother, providing the young with nourishment.  In another species, Boulengerula taitanus, an oviparous caecilian from Southeastern Kenya, the newborns also have specialized teeth to eat the skin off the back of their mother!!  The skin is regenerated every 3 days for the young, providing a nutritious meal.  Research has also found that a female may take care of young that aren't biologically hers, a term called alloparenting.  However, this is a costly to the "nursing" female.  Check out this BBC video to experience these flesh-eating, super slimy critters in action.  Truly a fascinating animal worthy of mention at Halloween.
To see more super scary, awe-inspiring yet repulsive critters for the Halloween season, check out this fun blog I found while researching tigerfish and then again while looking for caecilians: Ugly Overload!