So, why are you here? What part of yourself did you bring today? What experience do you want to have? These are the questions I wish I could ask every one of you as you come through the museum's doors. Then according to your answers I'd play matchmaker, pointing out an exhibit hall, hooking you up with just the right specimen or artifact so you could make a connection.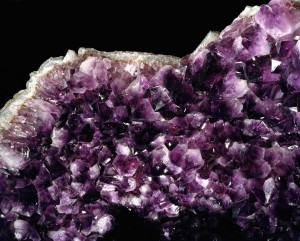 In today's increasingly digitized world we are overwhelmed with visual images, most of which we ignore. You come to the museum and we've got…uh…more stuff for you to look at. Yet, you're here. You could have stayed home twitching through a hundred television channels or trawling online for something, anything, about science. But you dealt with traffic and parking to experience something real, so what will you connect with and why?
Everyone coming to the museum brings their own individual history, likes and dislikes and those things obviously factor into the objects they find appealing. Suppose you love all things purple and you really like minerals, it's no big revelation that one of your favorite specimens at HMNS might be the amethyst geode in the mineral hall. At this point, mentally Rolodex the specimens and artifacts you've come to love at HMNS. What do you never tire looking at, what do you always re-visit? Fossils? Shells? Taxidermied wildlife? A Native American pot? You can probably easily state the reasons why, too. Old stuff's cool, shells are pretty, animals fascinate me, etc., etc. But let's dig a little deeper.
Think of an object at the museum that caught your attention for no particular reason, it sorta surprised you. It might have been nothing special until you read the label, learned something new, and suddenly you saw that object differently. Or across the gallery something grabbed your eye and you absolutely had to know what that thing was. Aha! A connection's been made, you're not completely sure why, but you enjoy it and now it's a favorite thing to see and share with others when you visit the museum.
Let me assure you, that very real connection between you and your special item can't be downloaded or digitized. To illustrate I'll share one of my favorites – but I have to cheat a little. This specimen's not on exhibit but is part of the vertebrate zoology collection. A few years back a giraffe died of old age at the Houston Zoo and the skull was sent over to Dr. Brooks, our Curator of Vertebrate Zoology. The giraffe was Hi-Lo, whom I remember fondly from my childhood zoo visits (that's my personal history connection) so I was pleased his skull came into our collections. Then I observed that the horns, those knobby things on a giraffe's head, are actually bone. Somehow I thought they'd be some sort of spongy cartilage. Who knew? But I gained new insight. Last, for no reason I can defend, I truly love the slender elongated sculptural beauty of the skull. It's just cool. Yeah, I can google an image of a giraffe's skull on any computer but it'll never delight me the way that Hi-Lo's does.
Ok, a connection's been made. Where will it take you? Does it inspire enough to pursue further knowledge or is the experience of the connection enough in itself? As a child, the late great Stephen Jay Gould so loved the dinosaur skeletons at the American Museum of Natural History that he became a renowned paleontologist. Me? I enjoy looking at the giraffe's skull over and over again but am content to remain a registrar. And here's some more musings regarding our connections with objects. Why do we take photos of our favorite things in museums? Why do we take photos of ourselves with them? Why do we buy replicas of them in the museum gift shop?
Whew, lots of questions in this blog! Now it's your turn, let's make this a discussion. Which objects do you think best represent the museum; are there iconic objects that connect with every visitor? Communicate with us; tell us what your favorite HMNS artifacts and specimens are and why. Because, if I could, the last question I'd ask when you go out the museum's doors would be: Did you make a connection?
Donna Meadows
Associate Registrar, Acquisitions