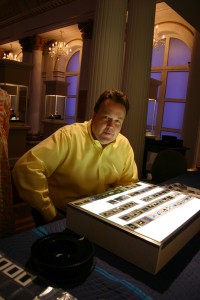 Ed. Note: At the age of nine, Joel Bartsch was shown a pyrite crystal, and became fascinated with gemstones and crystals from that point forward. After college, he worked in five museums around the country, returning to his native Houston in 1991, where he is now president of the Houston Museum of Natural Science. Bartsch founded a gem vault at the museum, which boasts one of the most extensive collections of minerals in the country, including a 1,869-carat natural emerald crystal, the largest ever discovered in North America. This article originally appeared in the Oct. 2008 issue of In Design Magazine.
My jewelry store would be a fascinating place to visit.
It would be underground, first of all. When people see gemstones that are cut, polished, and finished, the stones are so far removed from their natural environment that people really don't make the connection between the fabulous jewel they're wearing and Mother Nature. So, my store would be located under the earth – if not in a working mine, then at least in a replica. It would have crystals sticking out of air pockets in the walls, just as they're found naturally. The whole thing would be like walking into an underground version of Aladdin's cave, with several different caverns – all the rubies would be here, the emeralds here, the diamonds over there – and everything reinforcing the awe and mystery surrounding the origin of crystals.
I wouldn't carry any jewelry that was anywhere near normal. Now, I love white, colorless diamonds as much as anybody. But they've become commodities. So I wouldn't carry ANY white diamonds – only super-fancy colors, like purples and pinks. None of my store's gemstones would have any enhancements. Really, once you have to explain to customers that it's been thermally-enhanced, or irradiated, or had a laser treatment to remove inclusions, it sounds like a synthetic production. Again, I want to reinforce the link between these marvels and nature itself, which only adds to the value.
As for my customers, I would allow them in by appointment only… of course, kids are welcome at any time. Kids still have a sense of wonder and excitement about nature. If you show them the simplest piece of amethyst, they react with a big "Wow!" But when you see adults in a jewelry store, they act so unaffected, like they don't want the salesperson to know that they like anything. So, adults would only be welcome in the store after they've passed a written test.
A test, you say? Let me explain. Back in the 17th century, there were lists of rules for visiting museums. In those days, museums weren't public; you had to already have knowledge of a subject before you were allowed inside. My store would be the same way.
That may sound harsh, but really my point is that I want people coming in who truly appreciate what jewelry is. Perhaps they'd take a stonecutting course, or goldsmithing, or gemstone panning, all of which I would offer in the store. After all, the best customer is an educated customer. They may still have issues with the price, but at least they will understand how rare and unusual these gemstones are.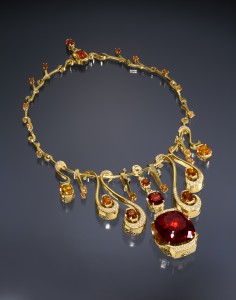 Finally, I would have a bevy of jewelry designers available for customers once they've chosen a gemstone. The designer would sit down with these customers and sketch out ideas, which would drive home the point that the design process adds more value to a piece of jewelry than anything else. Let's face it: gold, silver, platinum, diamonds, rubies, emeralds – in today's world, they're commodities, like five pounds of beans or 50 pounds of flour. What really creates value is the design process.
Faberge was once asked, "How do you decide how much one of your pieces is worth, compared to your competitors?" He answered, "If you want to know what my competitors' jewelry is worth, just put it on the scale." The point he was making was that they had no design sense – that the only value in their pieces was the weight of the diamonds or gold. The reason his jewelry was so highly priced was that it had a tremendous amount of creative value added to it.
At the end of their time in my store, when my customer has a fabulously beautiful piece of jewelry that they helped design, made up of totally natural stones and materials, and they're doing it down in this crystal cave in a natural setting, not only will they have a grand appreciation for the finished piece, but they'll have an incredible story to tell about the entire process.