Report from the yearly gathering of bug geeks…
I recently got back from the annual "Bugs in Bondage" conference held in southern Arizona.  The actual name is the more politically correct "Invertebrates in Education and Conservation," recently updated from the original "Invertebrates in Captivity" – thus the humorous nickname.  But for those of us who have attended for many years (this was the conference's 15th consecutive year), the nickname will always come first to mind.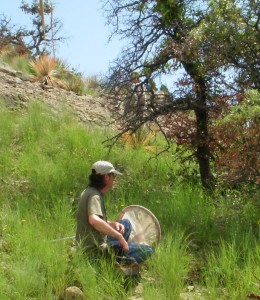 This is a great conference.  Who goes?  It's a fairly small group, about 125-150 people, including representatives from most of the US facilities that display live insects and/or butterflies, as well as those who supply insects and butterflies to our facilities.  Several international attendees often participate as well – especially from Canada and Mexico but also from as far away as Scotland, Costa Rica, Singapore, and Malaysia. 
Hosted by the Sonoran Arthropod Studies Institute (SASI), it's a week of workshops, collecting field trips, formal and informal presentations and roundtable discussions – with a strong social aspect as well.  The "Insect Trivia" contest is one of my favorite rituals; the photography contest is always fun, too; and of course, nothing can beat the final banquet.  Outside the meeting room, several vendors set up their wares – whether live arthropods, insect books, toys, and jewelry or collecting equipment.  As an example, BioQuip has a large display and also helps to sponsor the conference.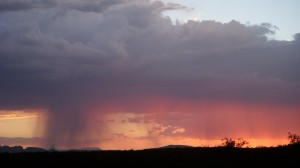 It may seem crazy to meet in southern Arizona in the middle of the summer, but the time (late July/early August) was chosen for a reason.  Although it's hot and sunny during the day, this is "monsoon season" in the Sonoran desert, a time when – most days – clouds build up late in the afternoon, followed by dramatic lightning storms that are accompanied by brief but torrential rains. 
Shortly after nightfall, it is usually clear again (the stars are great there in the desert skies).  Because of all the rain at this season, the desert is teeming with plant and insect life.  It's a great time to find cactus longhorn beetles, giant centipedes, vinegaroons, sunburst diving beetles, jewel beetles, and much more.  Some participants go blacklighting almost every night, choosing a spot off the beaten path and setting up a white sheet with UV and mercury vapor lamps to draw in flying insects.  I've seen sheets completely covered with moths, including some large and spectacular ones, along with tons of beetles, adult ant lions and owl flies, and much more.  
This year, a former colleague and I led a workshop on "plant identification for entomologists."  One of my favorite workshops in the past was one on "cooking with bugs" – we made a number of dishes using different insects and then served them at the icebreaker that night!  The talks I most enjoyed this year included one on leaf cutter ants, another on a monitoring program for the endangered burying beetle, and one on how to keep and display bumblebees. 
The other attendees are fun, unique people brimming with knowledge and experience – along with some "newbies" who are there to learn the ropes.  We all come away from the conference full of new ideas for displays, new arthropod possibilities, and a sense of community.  It's not often you can be in a room of over 100 people where every one is a major insect enthusiast (aka bug geek)! 
Are you a bug geek? Learn more:
What butterfly are you most likely to see in the wild?
Could you raise a tiny baby mantis?
Discover the Black Swallowtail.