Two weekends ago I went on my annual weird family adventure.  We decided to go to New Orleans this year for an Audubon filled weekend.  There were three adults, five teenagers and a five year old.  Seven of us drove the six hour drive, and I must say, it was very interesting.  I think we stopped 8 times for various things.  Our plan was to go to all the animal places there; the Audubon Insectarium, the Audubon Aquarium of the Americas, and the Audubon Zoo.  One of the main reasons I was so excited to go was the brand new Insectarium.  My friend, Jayme, is the manager and he said he would show us around.  If you are a fan of the show Dirty Jobs you may have seen Jayme on the bug breeder episode.  The show was great and very informative, but Erin and I are still a little jealous and wish we had thought of the idea first.  The Insectarium just recently opened in June and Jayme was ready to show it off.  I felt the same way when our own Entomology Hall opened, so I totally understood his excitment.  My 15 year old niece wasn't too keen on the idea of a huge hall full of bugs, but everyone else was at least a bit intrigued.
The Insectarium was beautiful, creepy, and entertaining all wrapped up in one big box.  If anyone is making a trip to New Orleans, this is a definite MUST SEE venue.  It is located in the French Quarter across from the Audubon Aquarium of the Americas.  I think the coolest thing about the insectarium was that the huge main hall way was covered with painted bugs and enormous models of various arthropods.  
They have a room that shrinks you down to the size of a small soil dwelling insect.  When you enter the room, a giant centipede greets you.  As you walk through the room, an earthworm (not an arthropod, but an annelid) is waiting for you to hop on it's back and smile for a picture.  In this room you can also see ants foraging in their tunnels and taking care of their babies (larvae).  At the end, a gigantic trap door spider pops out and can give you fright if it catches you off guard.  This room is one of many that have different themes.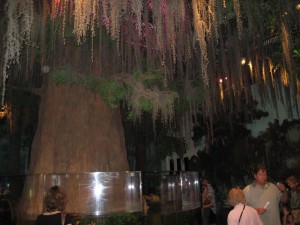 They also have a section dedicated to termites.  You can pick up a phone and listen to the termites munching on an old house and you can actually see live termites in the wall.  The Louisiana swamp section began with an old bait shop.  An employee dressed up as a fisherman showed us various critters that can be found in the dirt, a great hands on activity for all ages.  My sister's favorite thing about this part was a wonderful display of fly fishing lures made from actual insect parts.  After the bait shop you step right into a swamp.  The huge tree in the middle of the room is surrounded by different aquatic insects and fish.  You can even pop your head up inside the middle of one of the tanks to immerse yourself into the world of diving beetles. 
A very interesting room that I'm sure most people steer away from was the bug cooking cafe.  When I was there they were making cricket pancakes and tempura grasshoppers.  My five year old niece was all smiles when she got to eat one; at least one of them takes after me a bit!  Another awesome room was the 4-D movie we got to watch.  It was an awards show hosted by a beetle.  One of the awards he presented was to a honey bee for all the work she does to help produce fruits and vegetables. We could actually feel her flying around us. 
I'm sure all of you are familiar with the love bugs we get here in Texas in the spring and fall.  Well, they get them there too.  They even have an informative movie about the love bugs playing inside of an actual Volkswagon Beetle.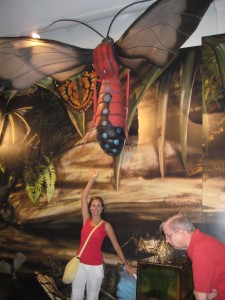 I could go on forever about all the stuff they have there, but I will just let you take a trip to New Orelans to see if for yourself.  I spent about 2 hours there, but I spoke with a lady the other day that spent 5 hours there.  I probably could have spent more time had I not been with a large group of people that were hungry and ready to move on to the aquarium.  If you enjoy our Entomology Hall here, you should definitely check out the insect zoos and butterfly houses in other cities.  There are insect zoos and butterfly houses all over the U.S.  I was fortunate enough to visit the St. Louis Zoo's Insectarium a few years ago and it was amazing.  Some of the cool things they have there are bullet ants and burying beetles.  They even have a program that is researching the endangered American Burying Beetle. 
In college, before I had this job, I went to Cincinnati, OH for the Entomological Society of America Conference.  I couldn't pass up on the opportunity to check out the Cincinnati Zoo, which I knew had an insect zoo.  This was the first insect zoo I had ever seen, so I was pumped.  That was the moment when I decided that it would be so cool to work in a place like that.  I got to see beautiful purple beetles, honey pot ants, and giant walking sticks and I just fell in love with the whole scene.
Before you go on vacation, check out this website:  http://butterflywebsite.com/gardens/index.cfm to see if there is a butterfly house or insect zoo in the town you are visiting.  All the insect zoos around the country are different in many ways.  Some are enormous and some are very small, but we all have the same goal in mind.  We want people to love bugs as much as we do and understand how cool and important they are.