Our guest blogger today is Dorothy, who runs the blog site Dinosaur Home. Though she originally majored in philosophy working with computers, her true loves are natural history and paleontology. Here, she's combined all of her talents to share a post on the importance of dinosaur research for the modern world.
Being fascinated by dinosaurs, I've often heard the question "why are creatures that disappeared from the earth so long ago are the center of so much research."
I believe that the answer (at least as I see it) might be surprisingly simple and I've decided to focus on two aspects.
1. Researching prehistoric creatures such as the dinosaurs is a really excellent way to learn how evolution works. One of the best ways to study evolution is to have as long a timeline as possible. A researcher today would need to examine and study a species over many years to see how they change and adapt to changing circumstances. When we examine fossils from millions of years ago we are given a rare glimpse into the dinosaur's existence and even the rare opportunity to see what they have evolved into – birds. Without the study of prehistoric creatures it wouldn't be possible to get the whole picture of the changes of biology over a really long time.
2. Research into the story of the disappearance of the dinosaurs is actually a very relevant one. The changing climate that we experience today might be something that reminds researchers of other cycles of climate changes years ago. Whether it was an asteroid, climate changes, changes in the earth's gravity or any of the other explanations that have been offered, there is a direct relevance to our lives today.
 Sometimes if we want to know what is possible, or what might happen, we have to learn about what has already happened. It is an important scientific goal to investigate various possibilities. If Antarctica was once a snow free continent it might be snow free again. If there are dinosaur fossils found on different continents with similar heritages it certainly helps us imagine the globe very differently than its modern structure.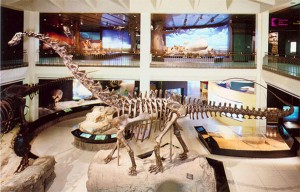 People all over the world have the tendency to imagine the reality they know as the only possibility; it is thanks to the study of dinosaurs and natural history that we can open our minds to very different realities.  The less knowledge we have, the more reluctant we are to admit changes that are happening and that will continue to happen. The Buddhist call it the "recognition of impermanence" and attribute a lot of importance to it. They believe it is vital to the process of becoming more aware of the impermanence of ourselves, and helps us become less ego centered. In fact the whole theory of there being no self says just that "we are all just a flow of events and changes that never starts and never ends." It works for the whole picture as well.
Few subjects in the Earth sciences are as fascinating to the public as dinosaurs. The study of dinosaurs stretches our imaginations, gives us new perspectives on time and space, and invites us to discover worlds very different from our modern Earth.
From a scientific viewpoint, however, the study of dinosaurs is important both for understanding the causes of past major extinctions of land animals and for understanding the changes in biological diversity caused by previous geological and climatic changes of the Earth. These changes are still occurring today. A wealth of new information about dinosaurs has been learned over the past 30 years, and science's old ideas of dinosaurs as slow, clumsy beasts have been totally turned around. Although much has been discovered recently about dinosaurs, there is still a great deal more to learn about our planet and its ancient inhabitants.
For more from Dorothy, visit her blog, Dinosaur Home. For more on paleontology, check out:Dimetrodon sighting!
Roberta, the other brachylophosaur
What's it like to discover a dinosaur?