I am a child of the Eighties. We are the children who played with Lego Building Blocks when they were just square building blocks and gave Malibu Barbie crew cuts with safety scissors that never really cut. We collected Garbage Pail Kids, Cabbage Patch Kids, My Little Ponies, Hot Wheels, He-Man action figures and thought She-Ra looked just a bit like I would when I got older. Big Wheels and bicycles with streamers were the way to go and sidewalk chalk was all you needed to build a city.
With your pink portable tape player, Debbie Gibson sang backup to you and everyone wanted a skirt like the Material Girl and a glove just like Michael Jackson's. Today, we are the ones who sing along with Bruce Springsteen and The Bangles perfectly. We recite lines with the Ghostbusters and still look to the Goonies for a great adventure. We flip through TV stations and stop at the A Team, Knight Rider and Fame. We laugh with the Cosby show, Family Ties, Punky Brewster, and Different Strokes ("What you talkin' bout Willis?") We are the ones who read Nancy Drew, the Hardy Boys, the Bobbsey Twins, Beverly Cleary, Richard Scary and the Electric Company.
Frienship bracelets were ties you couldn't break and friendship pins went on shoes – preferably hightop Velcro Reebox – and pegged jeans were in, as were Units belts, layered socks, jean jackets, charm necklaces, side ponytails and just tails. Rave was a girl's best friend; braces with rubber bands made you cool. The backdoor was always open and Mom only served red Kool-Aid to the neighborhood kids.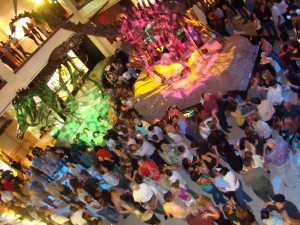 Entertainment was cheap and lasted for hours…
Come and relive the Eighties this Friday night from 6 – 10pm for just $15/ticket as we get radical with The Chromatics, cool out in the IMAX, explore the rocks and geodes of Geopalooza, and be the boss on the dance floor. Don't miss out on the best dance party in Houston with a ticket price straight out of another decade.  Mixers, Elixirs, & IMAX is the Jam!