This past weekend, about 100 of the amaaaaazing photographers of the Assignment: Houston Flickr group scattered throughout our exhibit halls and started shooting. We were thrilled to have – as you can see below – so many photographers come that it started to look like our T. rex was hiding Brangelina's new twins.
They captured some amazing – and amazingly diverse – images while they were here. You can check them out as they continue to be posted in the Assignment: Houston group pool over the rest of this month, and in the HMNS Flickr pool as well. A few even shared photos on their blogs.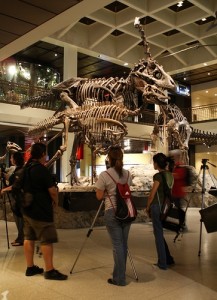 Some of the photos were technically astounding, some were simply gorgeous – and others portray our exhibits in such a unique way that it's hard to tell where they were taken. Still others feature items you'd never think to photograph and turn them into stunning images. Every single one will make you look at this place in a new way.
If you're into photography, there's still time to participate in the Assignment Houston HMNS topic – and the lovely laanba posts new assignments each month that are bound to get you out exploring the city. We'd love to see your museum photos in the HMNS pool as well – we pick one from the pool each month to feature here.
Happy shooting!
(above) Thanks to jimthompson for letting us share his photo, Tripods.