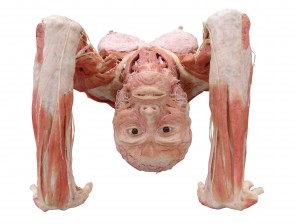 In 2006, over a half million people took an extraordinary journey into the human body in BODY WORLDS 3. Today, we are thrilled to announce that an all-new BODY WORLDS exhibition will debut at the Houston Museum of Natural Science on Sept. 12, 2008. Based on the latest discoveries in neuroscience, this new exhibition delves deep into one of the most mysterious – and most fascinating – organs in the human body: the brain.
Humans are unique among mammals chiefly because we have the capacity to contemplate ourselves – a capacity that stems directly from the human brain, the only organ that can examine itself. Inventor and anatomist Dr. Gunther von Hagens was inspired to utilize his Plastination technique to take visitors on a journey inside our minds to discover the functions and possibilities of this extraordinary organ. In his words:
"The brain is an amazing marvel of engineering. I wanted people to recognize what is known about this amazing gem inside our heads, and be awed by its possibilities and capacities."
To Dr. von Hagens, the brain's capacity for innovation is a source of wonder, informed by his own work in science: "I recall that first moment of clarity when seeing a specimen embedded in a polymer block, I wondered why the polymer was outside of the specimen, rather than inside the specimen, which would have allowed it to be stable and rigid, as well as easy to handle."
This moment of clarity – like many others before it and many others sure to come after – resulted in something extraordinary. And, the development of Plastination is just one example of the amazing innovations the brain makes possible. Nanotechnology, robotics, genetics, pharmacology, alternative energy technology and on and on – it's impossible to name all of the revolutionary new directions in which our brains are taking us into the future.
Join us this fall to discover how our brains work – and perhaps leave inspired to put yours to better use.
Below, check out a video preview of Gunther von Hagens' BODY WORLDS 2 & The BRAIN – Our Three Pound Gem: The Original Exhibition of Real Human Bodies:
UPDATE: Curious about Plastination? Check out this Q&A with Dr. Gunther von Hagens.
Images and Video: © Gunther von Hagens, Institute for Plastination, Heidelberg, Germany, www.bodyworlds.com. 2001 – 2008. All rights reserved.