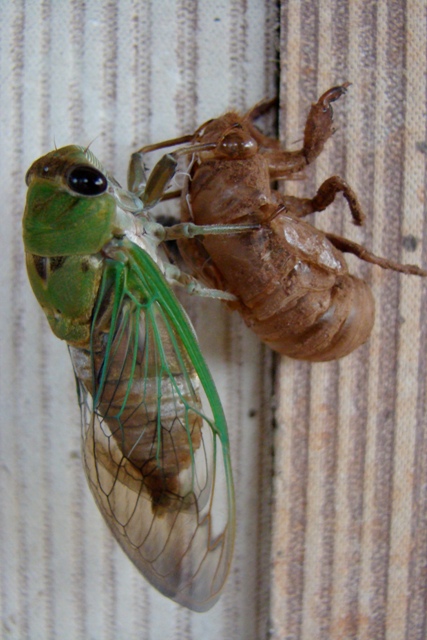 Yes! This week, the title "Insect Identification" is really an accurate title. One of our own, Chris Flis, took this awesome photo out at the HMNS paleological dig site in Seymour, Texas, where our team is working hard to uncover new bones and fossils. This is our first insect submittal and I'm very excited because this is one incredible insect.
This is an insect that you rarely see, but find traces of them everywhere. During the warm months of the year, people all over the country come accross peculiar shells which look like bugs, but appear to be empty. As a kid, I would find these all over my grandparents heavily wooded backyard and I loved to scare my brother and sister with them. I would call them, along with about 99.9% of the population, locust shells. It was not until I studied insects in college that I discovered that locusts are a kind of grasshopper, and these shells I was seeing everywhere belonged to a bizarre little bug called a cicada. In this photograph, you can see the actual adult cicada clinging to its old shell, or exoskeleton. It is probably waiting for it's new skin to completely harden so it can roam the forest in search of a mate.
Cicadas are insects belonging to the order Homoptera, an order containing mostly plant pests such as aphids, scale insects, mealybugs, and whiteflies. Cicadas themselves do very little damage to plants and are not considered pests. They have simple or gradual metamorphosis, meaning they have only three different life stages: egg, nymph, adult. The nymphs spend their time underground sucking fluids from roots of trees. When it is time for them to become an adult, they tunnel their way out of the earth, attach themselves to the bark or branch of a tree, and molt for the final time. The adult that emerges looks almost identical to the nymph, only larger with big beautiful wings. This always happens at night, so we don't see the adult, just the skin they leave behind which is perfectly preserved and very crunchy. The adult males are capable of producing sound from their abdomen which they use to track down a mate. Cicadas are active during the daytime, so that VERY loud hissing sound you hear during the hottest hours of the day are lonely male cicadas. At night, we are serenaded by nocturnal crickets, katydids, and of course, frogs. There are around 3000 species of cicada, each producing a unique sound. You can click here to listen to some different cicada songs as well as some katydids and crickets. Most cicadas have a pretty long lifespan, remaining underground as a nymph anywhere from one to three years. These are known as annual cicadas and can be seen every year. This one in Chris's picture is an annual cicada.
Now why do I say these are such incredible insects? You may have heard of a periodical cicada. These cicadas belong to the genus Magicicada which contains only seven species. There are two types of periodical cicadas; 13 year and 17 year cicadas. This means that these guys spend either 13 or 17 years as a nymph, underground sucking on roots, which is incredible. Not only do they live for an unbelieveble amount of time, their emergences are synchronized, creating one of natures greatest phenomenons. When an emergence takes place, millions of cicadas come out of the ground for several weeks providing food for hundreds of species of birds, mammals, reptiles, and other arthropods. These animals feast on cicadas until their bellies are about to pop, but they don't even put a dent in the cicada population. So many of them die that the forest floor is covered by several inches of decomposing cicada bodies, giving the trees a tremendous dose of fertilizer that can only come from such an incredible event. This spectacle of nature can be seen in my favorite program ever, the Planet Earth series (the Seasonal Forests episode). These periodical cicadas look much different from the usual annual cicadas. They have a black body, red eyes, and orange veins in their wings. This website has a lot of great information about periodical cicadas, including an emergence chart which shows when certain broods will emerge next.
Thanks so much for sending in this picture Chris, it spurred such an interesting topic. I hope I've cleared up ya'lls misconceptions about cicadas and I hope you find them as amazing as I do.