Well, it's been a year since the grand reopening of the Cockrell Butterfly Center and what a year it's been.  We had an awesome opening last May with a whole weekend full of fun and excitment.  
Soon after the opening we had "Adopt A Butterfly" and a swarm of Ecoteens.  (Ecoteens are wonderful young volunteers that can always be found somewhere in the museum in the summer time.)  We also shared our newly renovated exhibit with all of our docents with an exciting week of docent training.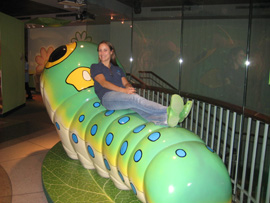 Me lounging on a GIANT spicebush
swallowtail caterpillar
With all the hard work that went into redoing the exhibit, it was great to hear all the compliments from our docents and patrons.  I have talked to many guests that come back regularly to see their favorite parts of the exhibit and it's always interesting to hear what they like, so I thought that I would share my favorite parts with you.
The huge spicebush swallowtail caterpillar that greets everyone at the very beginning of the exhibit is probably my favorite sculpture.  I got to see this go from a hunk of foam to a plain colored caterpillar to the wonderful masterpiece it is today.  It is so fun to see kids and adults posing with the caterpillar – what a great way to start off the exhibit.
I promise I am not going to go through the whole exhibit but my second favorite part is the hallway leading up to the Brown Hall of Entomology.  The colors are so bold and I still find myself in awe when I walk up and down the stairs.  
There is also a section of the hall that displays how wonderful ants are at building their homes.  There are three casts of actual ant nests displayed with a video of how they were made.  (CBS News recently did a great story on the man who developed this casting process; you can see it here by clicking on "The Secret World of Ants.") It's pretty cool to see the structure of the fire ant, Solenopsis invicta, nest and how many tunnels they have.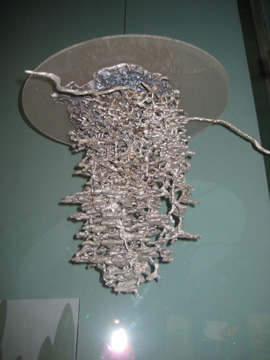 A lifesize cast of an anthill and all the tunnels
Beetles, aka Coleoptera, are a main part of our exhibit because one out of four living animals on earth is a beetle!  There is a beautiful preserved beetle display showing specimens from some of the major beetle families.  I think I'm partial to this section because Erin and I spent hours sorting through our beetle collection. 
A few days before the grand reopening we both spent A LOT of time planning and actually putting together this wonderful beetle display.  We have a quiz game hosted by a very southern dung beetle that is probably the most popular interactive section of the Entomology Hall.  I love this game because it gives visitors a chance to get a bit competitive with their friends and learn cool stuff about Arthropods at the same time. 
I would really love to share with you everything that is in the Entomology Hall, but I will give you the chance to come see it youself. 
We did not change much inside of the actual rainforest, but we did get an observation bee hive.  I have to say that this is super cool and I sometimes find myself spending a lot of time watching it.  This is probably one of Nancy's favorite parts of the exhibit.  She has even taking up backyard beekeeping herself. 
Another thing about the rainforest that is brand new are the butterfly charts.  You can borrow one of these when you go into the exhibit to help you identify the butterflies. 
The last part of the exhibit is downstairs where the old insect zoo used to be.  My absolute favorite part about this area is the "beneficial insects" game.  It's kinda goofy, but lots of fun and I've seen so many kids begging their parents to stay so they can play longer. 
Another part of this area that I really enjoy is the "eating insects as food" section.  To see the look on peoples faces when they realize that the vending machine in front of them doesn't have the normal stuff but instead has bugs to eat is priceless! 
I hope you enjoyed my favorite things and remember that I just touched the surface of what we have to offer.  I hope that if you haven't had the chance to come check out our one year old renovated exhibit you will come soon.  I would also like to hear back from you guys as to what some of your favorite things are!