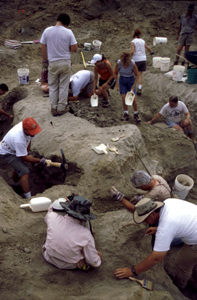 A team of paleontologists and
volunteers starts the excavation
of Leonardo. As you can see, it
takes a great number of people
to get a 6.5 ton fossil out
of the earth.
In about a week or so, I'll be headed to Malta (that's the one in Montana, not the one in the Mediterranean, but thanks for rubbing it in) with Dr. Robert Bakker, our curator of paleontology, David Temple, our associate curator of paleontology, and Steven.
Why, you ask?
Well, because that's where they found Leonardo, the famous mummified dinosaur for which our Museum is currently developing a world premiere exhibition. Dr. Bakker and the team will be prospecting a few new sites and going back to the site where Leonardo and several other important specimens were found.
We'll also be meeting up with a few other paleontologists. Geopaleontologist Mark Thompson will be there, as well as Dave Trexler – both of whom have been involved with the Leonardo Project since the discovery.
We're planning to bring you lots of photos and video of the week's events right here – but I am positive that all of you have some very interesting questions that you might want to ask these guys, stuff we might not even think of.
So, let us know what you're curious about – Leonardo, the original excavation of this amazing mummy, current interpretations of the fossil, how you find such a thing, other fossils from the area, paleontology in general – or whatever else you might want to know. As long as your questions are relevant and good-natured, we'll ask 'em.
So, fire away – leave your questions in the comments section and we will get you the answers!