It is the end of the school year for us and it has been a very busy April and May. Chris and I finished our last science lab classes in April and now we are doing nonstop outreach programs!
In Chris' Biology Lab, she taught Fungus Among Us, where 5th-8th graders learn about molds, mushrooms & yeast with hands-on activities.  They learned about different types of fungi, dissected a mushroom, and experimented with yeast.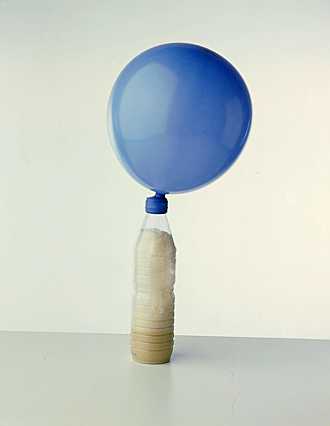 Yeast Balloon Experiment
Chris says that no matter how hopeful you are or how much sugar you add, the balloon wouldn't levitate the bottle or spontaneously blow off.
In my Wildlife Lab, I taught Bugs in Balance.  The K-8th graders learned what "ingredients" make an insect, and their life cycles, and then got a chance to meet live insects up close and personal. 
We started out by learning that bugs mean different things for different people–usually, the term "bug" refers to small, creepy, crawlies like insects, spiders, millipedes, & scorpions.  Many people aren't aware that there is an order of insects called Hemiptera, known as the "true bugs." 
After talking about the true bugs, we focused on insects in general.  We came up with a recipe for creating an insect that included the following ingredients: 6 legs, 3 body parts, 2 antennae, an exoskeleton, and wings optional!  We examined the Madagascar Hissing Cockroach as an example of a wingless insect.  They also met up with a Giant Malaysian Katydid, a beautiful green relative of crickets and grasshoppers.
We looked at the life cycle of the butterfly and compared it to that of the cricket.  Butterflies go through a complete metamorphosis that includes 4 stages: egg, larva, pupa, and adult.  The cricket only has three stages called incomplete metamorphosis: egg, nymph, and adult.
To learn about the balance of insects in our environment, we talked about how they can be both helpful and harmul to humans.  The younger classes created a beehive mobile to remind us of how important honey bees are as pollinators in our society and about Colony Collapse Disorder.  The older classes built a mosquito out of pipettes, pipe cleaners, & bobby pins as we talked about how this insect can be a carrier of diseases such as Malaria and West Nile Virus.
It's time to take a break from our classes as we close out the school year with 3-5 outreach programs a week.  This keeps us very busy!  We must prepare ahead of time to ensure we have all of the proper specimens (e.g. stuffed bobcat, echidna, shark jaws) and that the live animals are ready to go.  We must arrive early to load up our van and attempt traffic to get to the school on time.  Once we arrive, we set up our specimens on the table and mentally prepare which animals will we show in which order.  We normally take 6-8 live animals and do 25-45 minute presentations.  We see thousands of elementary students a year and answer quite the assortment of questions including "Is it real?" and "Where's its head?"
Chris displaying a rabbit for our Texas Wildlife program
As you can see, our animals keep very busy as educational ambassadors which in turn keeps us very busy caring for them.  I hope you have enjoyed this brief look into our lives here at the Museum.  We look forward to sharing with you our upcoming Creature Feature: The Mysterious Matamata.