Hello again insect enthusiasts! Well, we've already received another photo from one of our wonderful readers! This week's photo comes to us from Ben Bailey in College Station. This photo was taken at the Texas A&M horticultural gardens, my alma mater, and a great place observe the variety of bug life Texas has to offer!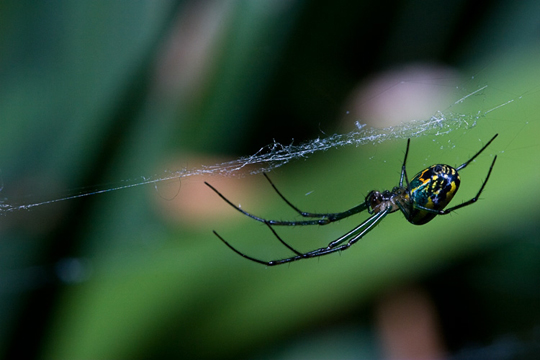 Venusta Orchard Spider (Leucauge venusta)
Photo provided by: Ben Bailey 
Spiders certainly are not insects, but they are arthropods, which share several characteristics with insects such as: segmented bodies, jointed appendages, and a hard exoskeleton. Spiders belong to the class Arachnida, along with scorpions, ticks, mites, and some other weird looking things! Arachnids all have 8 legs, 2 main body segments, and a pair of jaw-like, fang-bearing appendages. All arachnids are predators which feed on a wide variety of small prey including insects and most are harmless to humans. This means that they can actually be helpful in your home or garden!
This striking photograph is of one of my favorite spiders, the Venusta Orchard Spider (Leucauge venusta). In Latin, venusta means beautiful, and as you can see, this is a gorgeous spider. The Venusta Orchard Spider is a small orb weaver that likes to hang out in light, open areas near shrubs and trees. They construct a horizontal web about 1 foot wide. They cling below the web, or a nearby twig and wait for an unsuspecting insect to become entangled. These spiders, like most, are very shy and harmless to humans! Consider it a beautiful, natural little ornament for your garden.
Thank you so much Ben, for sending in the great picture, and reading our blog! Keep 'em coming folks!