Olive – a Giant Long-Legged Katydid from Malaysia – was with us for only a few days, however, she left us with a precious gift; her eggs! Now, will those eggs hatch? We're keeping our fingers crossed over here that we'll soon be seeing some cute little katydid babies! This insect has quickly become my favorite among our exotic insects here at the Butterfly Center since it's arrival just a couple of years ago.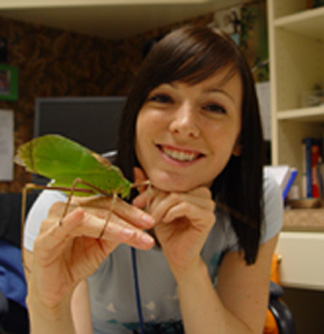 Bob and Me
Our first was Bob – he arrived in January of 2006. We had never ordered anything like him before, so I was excited to see what he would look like. Well, it was a probably the biggest bug I had ever seen! At first I was hesitant to try to touch him, but I held my hand out and he just climbed right up there, waving his extremely long antennae all around! I was shocked that an insect of his size (roughly 6 inches in length) would have such a friendly demeanor.
I started to handle him more and more, and eventually we included him in our Bugs on Wheels program. The kids absolutely flipped out when they saw him and were so excited to touch him! I was lucky enough to find him a mate, Momma, who produced 103 eggs! Raising these impressive insects was a very interesting experience.  Out of 103 eggs, 99 hatched, which was amazing! The nymphs (immature individuals) were very fragile and faced many challenges with molting (shedding of the exoskeleton). Out of 99 babies, 13 katydids made it to adulthood. Considering the factors affecting their growth, I felt pretty awesome about that. They were featured in the Frogs: A Chorus of Colors exhibit and 3 of them are still with me! They are officially retired old fogeys, but still alive. They are going on 2 years, which is remarkable for an insect!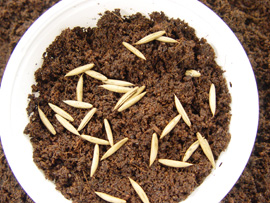 Katydid Eggs
Since all we had was a few retirees sitting around, we needed some young ones for Bugs On Wheels and display in the Insect Zoo. That's when we got Olive. She arrived along with 3 males: Milo, Otis, and Steve, but died 3 days after her arrival. So, it was a wonderful surprise when I discovered 33 eggs a couple of weeks ago! I am taking care of them and hoping that they will hatch soon, keep your fingers crossed. We want to always have this amazing animal around to share with people!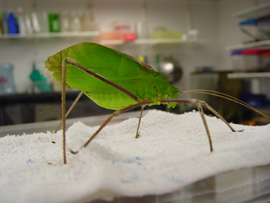 Katydid!
Now if, you're wondering…What is a katydid? Katydids, also known as long-horned grasshopper or bush crickets,  belong to the order Orthoptera which also includes grasshoppers and crickets. These insects are all characterized by long muscular hind legs, 2 pairs of wings, and the ability to produce noise. 
Katydids look much like a grasshopper, but are more closely related to crickets because of the way they make all that noise. Katydids and crickets rub one wing against the other while grasshoppers rub one leg against one wing. All katydid are mimics, most have leathery green forewings to help them resemble green leaves, but some mimic dangerous arthropods such as spiders or ants.
Notice the long antennae
Katydids are sometime called Long-horned grasshoppers because of their long antennae, which can be twice the length of their body. These long antennae help the katydid at night by acting as touch receptors, allowing them to feel, as well as smell, the environment around them.
They are nocturnal animals, remaining motionless during the day to avoid their predators. They're very often attracted to lights at night, so you may have seen one on your front porch.
These insects have what is called simple metamorphosis which is different from that of a butterfly. The baby insect hatches and looks just like the adult, only tiny. This baby is called a nymph, instead of a larva. After several molts, the insect reaches it's full size and if wings are present, they will be fully developed. The female lays eggs, one at a time, in several different substrates, including soil, plants stems, or tree bark. They are usually cleverly disguised as seeds to throw off potential predators. 
There are over 6,000 described species of katydid that live all over the world, with half of them live in the Amazon rainforest. Katydids are very common in Texas and are usually a couple of inches long. Our Malaysian Katydids are arguably the largest Orthopteran species in the world!
It is such an amazing insect, you should come and see Otis sometime on display in the Entomology Hall. Milo is the one we have now for Bugs on Wheels. He, like the others, is so wonderfully calm as hundreds of children pet him several times a week. This is truly a spectacular creature!
So, if you find some time, say a little prayer for Olive's eggs!