We had a staff preview of Grand Canyon Adventure: River at Risk 3D a few weeks before it opened, and it is a fascinating film – though it was way more effective at inspiring me to go white-water rafting than to install a low-flow shower head (one of the main character's stated goals). So inspiring, in fact, that Jamie recently announced our first Blog Contest – where you can share YOUR greatest adventure with us for a chance to win some great prizes, and to see it posted on BEYONDbones.
We love this film, because anything that gets people to appreciate nature surely also inspires them to help conserve it. So, we hope you'll share your adventures with us – and possibly take home some cool prizes, too. In the meantime:
Author/anthropologist Wade Davis and his adventurous daughter Tara were a part of the river-rafting team that follow the Colorado River in the movie (now playing at HMNS). Davis is Explorer-in Residence at the National Geographic Society – and his globe-circling work exploring indigenous cultures has inspired feature films, documentaries, TV series and best-selling books, while taking him from African plains to Tibetan mountains. Tara, an apprentice river rafting guide, began attending Colorado College just as filming ended, inspired to pursue Environmental Studies.
Q: Wade, you've traveled the planet for a wide range of projects. What compelled you to become part of Grand Canyon Adventure: River at Risk 3D?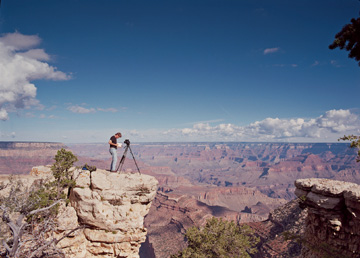 Davis surveys the Grand Canyon
WADE: The real inspiration behind it was Greg MacGillivray, who somehow intuited that by putting myself, Bobby Kennedy and our daughters, Tara and Kick, on a boat going down the Colorado that it would become a magical experience. It was a real risk, and, honestly, I had no idea just how magical it would be until I got on the river. The trip became one of those rare times in life when you are living through an experience and, at the same time, are cognizant that it will become one of the greatest memories of your life.
Q: What made it so memorable?
WADE: As a father, it was a chance to get to know Tara in a way I never had before. You know, children grow very much in the way a river does – becoming richer, fuller and more intriguing everyday – and there was a real feeling on the river of launching this wonderful person into a new life.
Q: Tara, you literally grew up riding rivers; what has kept you so intrigued by them?
TARA: My very first experience was when I was around 6, on the Turnagain River [in British Columbia] – and it rained for days, while my sister and I played "think of an animal" in our tents! But what I fell in love with were the campfires, the stories, the laidback feeling. You become part of the wild and you forget social constructs. Rivers are also just a lot of fun!
Q: Wade, did you already know RFK Jr.? You seem like old friends.
WADE: We'd only met a few times but we share many reference points. We have friends in common, we've lectured back-to-back, we were even at Harvard at the same time. There's also something about us both being Irish – me the storyteller, he the raconteur. And we both equally love rivers. On the Colorado, I became quite enamored of Bobby in the sense that I truly felt that here is a man who could lead us out of the wilderness.
Q: Tara, you also hit it off with Kick; how did that happen?
TARA: Initially, I think it was our humor that brought us together – she and her dad are so funny. Also, a river is a great place to make friends. Everything else kind of falls away and, no matter who you are in real life, everyone's a kid again.
Q: Wade, as a whitewater guide, did anything surprise you about the Colorado?
WADE: I thought Lava Falls would be even tougher! (laughs) But perhaps the biggest surprise was seeing Tara and her spontaneity with Kick.
Q: What were your favorite moments, Tara?
TARA: The nighttime scorpion hunts were pretty classic. If you turned on a "black" flashlight at night you'd see scorpions everywhere; it's pretty cool to realize that all this life surrounds you. It was also great to spend time with my Dad, who has taught me so much about the world, in this amazing place.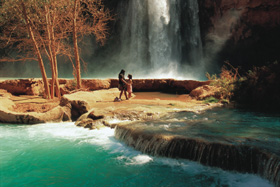 Shana Watahomigie, a member of the
Havasupai tribe and the first Native American to
become a National Park Ranger and river guide,
at a waterfall on the Colorado River.
Q: Wade, do most indigenous cultures you've studied have a sacred relationship with water?
WADE: Around the world, water is fertility, water is life. In so many ways, people around the world recognize rivers as the arteries of the planet, metaphorically, spiritually and culturally.
Q: Do you think there's still time to change our approach to water to one of conservation?
WADE: Water will become an increasingly precious commodity and a big battleground, even more so than oil. Everywhere there are rivers, these issues will play out. It's really a question of what kind of world we want to live in. How are you going to feel when the last wild river is gone? I feel so fortunate to have been able to follow so many rivers untrammeled all the way to the sea. It's one of the great experiences of life. But I also believe that Margaret Mead was right when she said "never doubt that a small group of thoughtful, committed citizens can change the world."
Q: Tara, is your generation up to the challenge of making those changes?
TARA: Oh, I definitely think we are. I've met so many people my age who are passionate about the environment, and who are ready to think in more innovative, creative and far-reaching ways.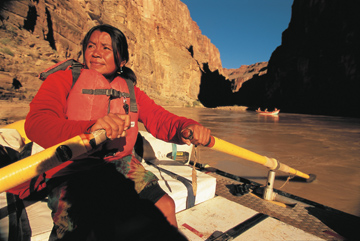 Shana, leading the group down the Colorado River.
Q: There's a focus in Grand Canyon Adventure: River at Risk 3Don sharing outdoor experiences between generations. Wade, what does that mean to you?
WADE: I've always tried to live a life in which knowledge and seeking are the benchmarks of existence and I've tried to share all the wisdom I can with my children. But I also believe in what Kahlil Gibran said about children being the arrows and parents the bow. In a wonderful way, this was a journey about passing on the torch.
Q: Tara, how do you think young people will respond to Grand Canyon Adventure: River at Risk 3D?
TARA: The 3D is going to amaze them. There's no better way to understand the vastness of this landscape- and then to feel the waves flying up in your face, it's going to be really fun! I think the Grand Canyon inspires everyone who sees it. Every day on the river I wondered how such a place could have been created, and about how to protect it for the future. I really hope to return to the river when I'm older, maybe even with Kick.