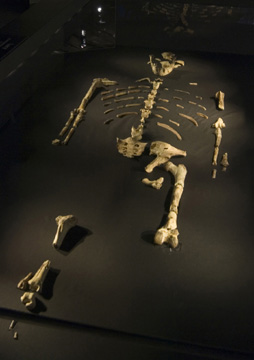 The original fossilized remains of the
3.2 million year old hominid known as Lucy
Great news if you haven't been to see Lucy yet – the exhibit has been extended through Sept. 1!
A group of officials from Ethiopia visited the museum this week to sign an agreement that allows the Museum to keep her on display for a few more months. They brought a crew from Ethiopian TV with them, and Dirk, our curator of anthropology, gave them an extensive tour of the exhibit that will be broadcast in Africa and placed in the Ethiopian Prime Minister's permanent archive.
Almost 170,000 people – including visitors from as far away as Helsinki, Finland and Santiago, Chile – have visited Lucy so far, and I'm thrilled we'll have her on display here for a few more months. It's hard to describe the experience of  looking at these 3.2 million year old bits of fossilized bone, just trying to imagine what Lucy's life was like and contemplating the astonishing journey of our species. I'm glad that many more visitors will have the opportunity to experience this for themselves.
There's a comment book at the end of the exhibit, where people can leave their thoughts about the experience. While the exhibit did generate some controversy when it opened, most of the comments in these books, from people who have just seen the show, have ranged from gratitude to the Ethiopian people for sharing this amazing treasure with us to amazement at the discovery of Ethiopia's rich human history.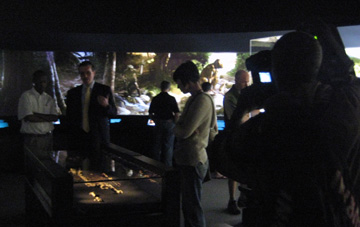 Dirk Van Tuerenhout, curator of the Lucy exhibit
(second from left), gave ETV a tour of the Lucy exhibit.
Here they are in standing behind the Lucy fossil.
Have you visited Lucy yet? If so, I'd love to hear what you thought of the experience, so please leave a comment on this post if you have a moment. If not, be sure to visit this summer – the exhibit is is scheduled to open at the Pacific Science Center in Seattle on Oct. 4 (so, no more extensions!).