Summer Grilling party 101 as done by the professionals! Take your summer grilling to the next level, learn what dishes are our exclusive Museum caterer's favorites, and how they do it!
Skinny Pinchada
Recipe by City Kitchen
"Perfect amount of nuttiness to balance out the sweet!"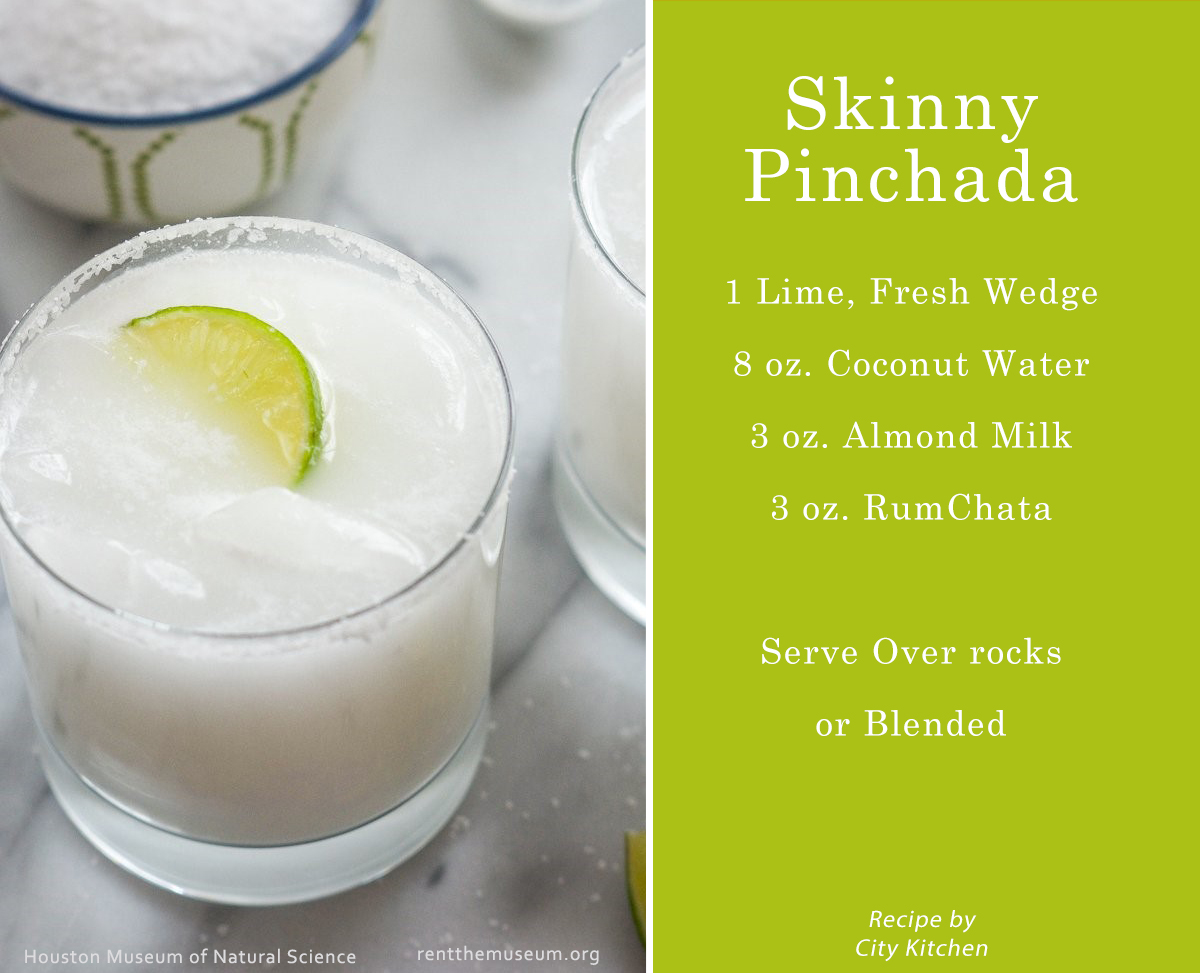 Grilled Watermelon Salad
Café Natalie
"This is our favorite summer dish as grilling the watermelon caramelizes the sugar providing a sweet, yet refreshing snack for any Summer BBQ."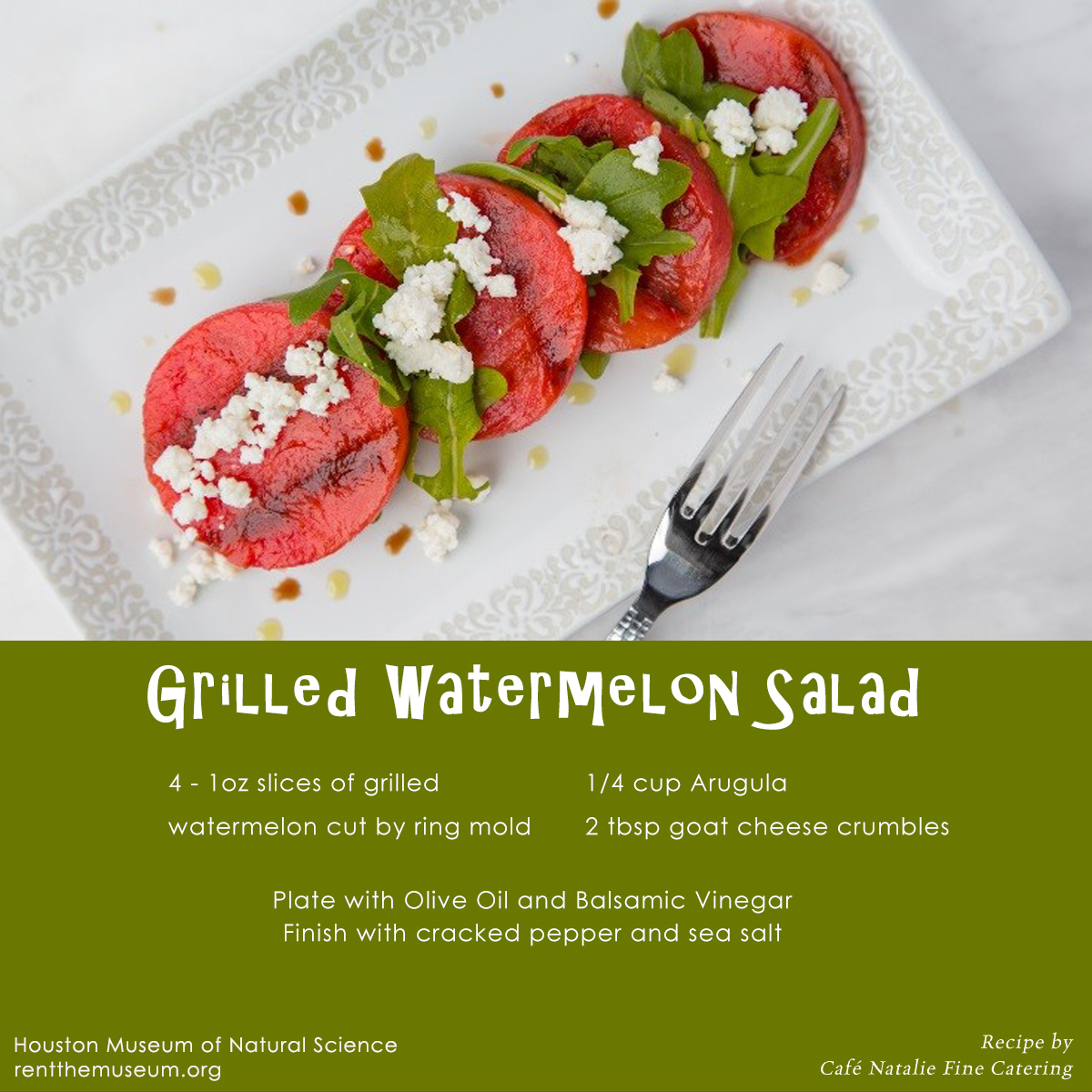 Grilled Caesar Salad
Abuso
"It's the new summer trend we are really excited about"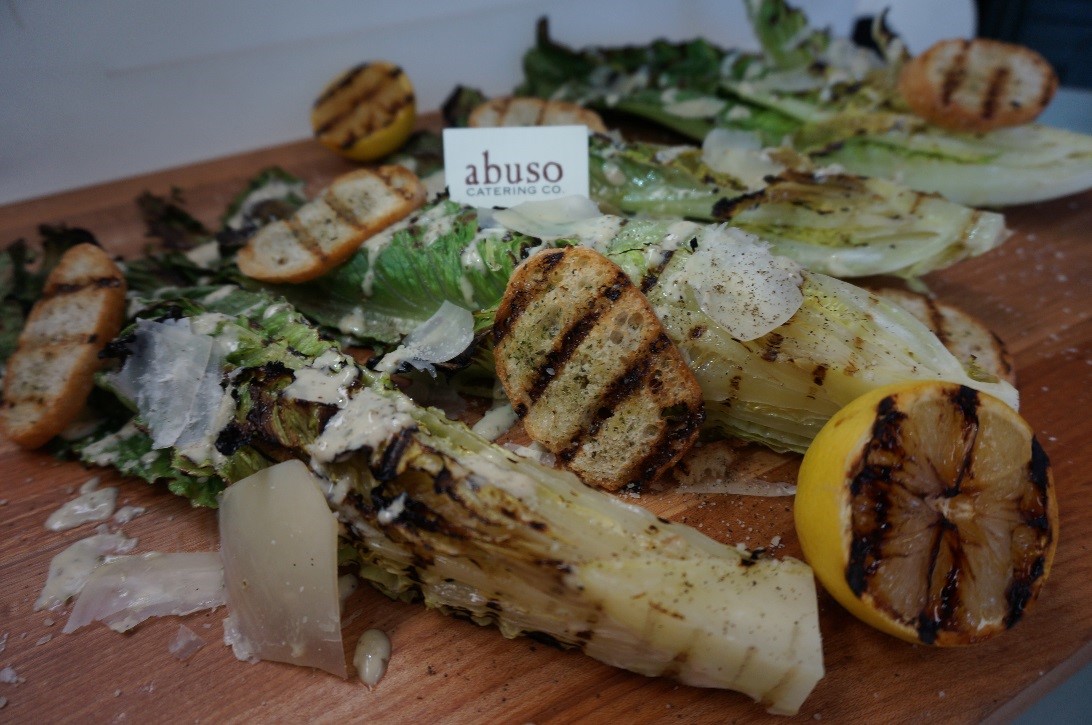 Dressing (Or use your favorite brand Caesar Dressing)
2 small garlic cloves, minced
1 teaspoon anchovy paste (found near the tuna fish in the supermarket)
2 tablespoons freshly squeezed lemon juice, from one lemon
1 teaspoon Dijon mustard (I like the brand Maille)
1 teaspoon Worcestershire sauce
1 cup mayonnaise
1/2 cup freshly grated Parmigiano-Reggiano
1/4 teaspoon salt and 1/4 teaspoon freshly ground black pepper
In a medium bowl, whisk together the garlic, anchovy paste, lemon juice, Dijon mustard and Worcestershire sauce.
Add the mayonnaise, Parmigiano-Reggiano, salt and pepper and whisk until well combined.
Taste and adjust to your preferred flavor. The dressing will keep well in the fridge for a little under a week.
Salad
One large head of Romaine, sliced in half
3 tbsp Extra Virgin Olive Oil (EVOO)
A liberal pinch of salt and pepper
½ Cup Parmigiano-Reggiano Cheese
Croutons
1 or 2 pieces of your favorite baguette or white sandwich bread
Lightly oil, s&p, grill to desired doneness.
Preheat your grill to high heat. The hotter the grill, the better the lettuce will caramelize.
Rub each side of the Romaine with the EVOO and sprinkle with Salt and Pepper
Once your grill is ready, carefully place your romaine on it.
Flip after 45 seconds to a minute. The lettuce should be dark brown with a nice char. Do not burn or wilt.
Chop lettuce and toss with croutons, cheese and dressing.
Croutons
Lightly oil your bread and season with salt and pepper.
Grill bread on both sides to desired doneness
Crumble or cut to desired size
Feel free to customize your salad with some fresh touches, such as diced tomatoes, corn, avocado, or even grilled chicken. Once you've grilled your first head of romaine, we guarantee you'll make this salad again and again!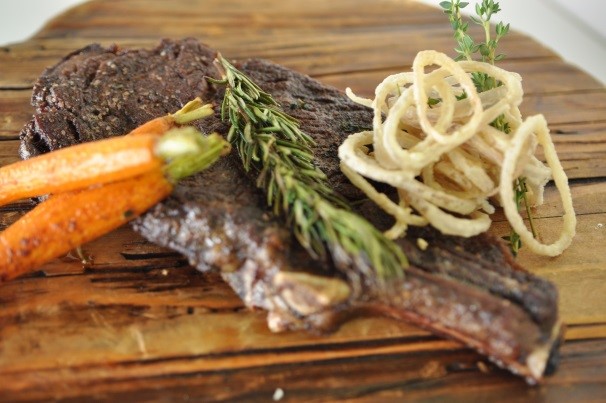 Bone-In Ribeye
A Fare Extraordinaire
"The perfect way to get your family and friends together for a summer soiree"
The most important thing to know about grilling your steak is that there are lots of methods to the madness. If you are new to grilling, keep practicing, and eventually you will find your grilling, seasoning and temperature method of preference. Regardless of your experience, a steak grill out is the perfect way to get your family and friends together for a summer soiree.
The Grill: The first step to grilling the perfect ribeye is deciding on your preferred cooking method. We prefer a good old fashioned charcoal grill, but for you new-time grillers it might be easier to start with the gas grill. Both methods will cook your steak perfectly, but there are pros and cons to each method.
CHARCOAL GRILL

45 Minute Start Time
More Complicated to Master
Intense Flavoring from Charcoal and Wood Chips Infused into Meat

GAS GRILL

20 Minute Start Time
Easier and More User Friendly
Minimal Flavor, For Cooking Purposes Only
Seasoning: Set your meat out right as you're lighting the grill or turning the grill on. If you allow your meat to sit out and come to room temperature, this will help in the cooking your steak faster. Once your grill is ready, season your meat with salt and pepper. We prefer to use Kosher Salt and Fresh Cracked Black Pepper on our steaks. Some people also prefer to use olive oil to give their meat extra tenderness and moisture.
Grilling: We prefer diamond grill marks for the perfect grilling effect. Place your steak on the grill at a 45 degree angle for 2 minutes. After 2 minutes, rotate your steak to 90 degrees for another 2 minutes. Once you have totaled to 4 minutes on one side, flip your steak over and repeat the 45 degree and 90 degree for another 4 minutes, totaling to 8 full minutes on the grill. There are many ways to tell if your steak is to the correct temperature. The most accurate way is to read the temperature of the meat. Your doneness will increase by 5 degrees.
TEMPERATURE DONENESS

125 Degrees: Rare
130 Degrees: Medium Rare
135 Degrees: Medium
140 Degrees: Medium Well
Cook Time: Your meat temperature is a personal preference. For most steaks, we prefer a nice medium rare. However, for Ribeyes, we have a personal preference of medium. Bone-In Ribeyes are a much fattier cut of meat. Cooking the ribeye a little longer, to medium, will allow the fat to render and avoids any gristle.
Resting: Once your meat is off the grill, it is very important to let it rest before cutting into it. If you do not allow enough resting time, then most of the juices will run, creating dryness in your steak. We recommend a resting time that equals half the cooking time. If you cook your steak for 8 minutes, then let it rest for 4 minutes.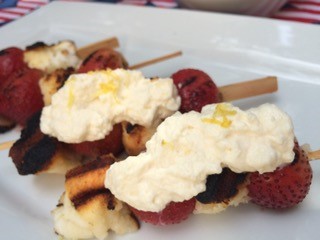 Grilled Strawberry Shortcake Skewers
Mélange
(Recipe makes 4 skewers)
1/2 pound angel food cake
12 strawberries
1/4 cup strawberry preserves
2 Tbsp melted butter
1 cup heavy whipping cream
3 Tbsp powdered sugar
1 tsp good quality vanilla zest of 1 lemon
These can be made ahead of time and grilled just before dessert.
1. dip
2. strawberries
3. cake
4. grill and serve!
Directions:
Whipped cream dip – Mix together the heavy whipping cream, vanilla, and powdered sugar. Beat until soft/medium peaks form. Caution – don't let it go too long or it will turn into butter.
Prepare the strawberries – Remove the hulls. You can do this with a paring knife the traditional way, or you can even use a regular straw. Push the straw up through the bottom of the strawberry.

Melt some strawberry preserves in a small bowl. Dip the strawberries into the melted strawberry preserves. Use a fork to get them out and "drain" them as you go.

Prepare the angel food cubes – Cut your angel food cake into cubes. You want them to be roughly the same size as the strawberries, and the same size as each other. If some are really large and some small, the smaller ones won't touch the grill. Size and uniformity does matter in this one.

Now just put them together. I am using these double skewers. If you are using singles, use two at a time. Hold them slightly apart while threading the food onto them. This will keep the fruit and cake from swiveling around.

Grill and serve – When you are ready to grill them, brush the cake with melted butter on each side. The butter will help to prevent the cake from sticking, and it will also help form that lovely crust. Grill the kabobs on a medium grill or grill pan about 4 minutes per side. You should see some really nice grill marks on the cake. The berries will also get a slight char on them. Serve hot with the lemon scented whipped cream dip.