Elegance among Jurassic Giants.
It makes a profound impression – our Houston Diplodocus.
She's a giant – ninety feet long.
But she's elegant – the neck curving forward in a graceful S-curve. The tail extending up and away from the hips. When you look from the balcony at our Diplodocus, her double-arched construction reminds you of the most beautifully-designed cantilever bridge across some wild Wyoming river.
Back in her day, the Late Jurassic, 150 million years ago, Diplodocus must have glided over the dry landscape with smooth, long strides. Here and there she would rear up on her strong hind legs, brace herself with her tail, and probe the upper branches of tall tree ferns and conifers.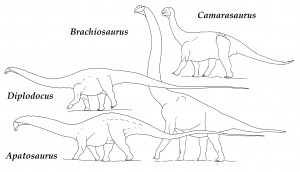 She's not the weightiest veggie-saur in her Jurassic world. Her close kin Apatosaurus would be twice as heavy. Her neighbor Brachiosaurus would be four times her bulk. But no other dinosaur can exceed our Diplodocus in the combination of length and delicacy of architecture.
I label our animal a "she" from an old tradition but, in fact, we don't know the gender, yet. Whether male or female, Diplodocus specimens also invoke another moniker – "Dippy."
And our Houston Dippy is very special. She's "Utterback's Dippy", the skeleton that surprised the scientific world and made every museum change its displays.
The Veggie-saur Trio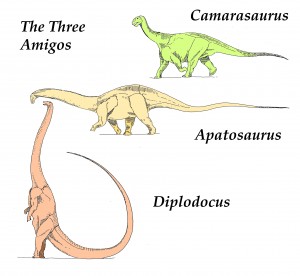 Diplodocus is one of the Three Jurassic Amigos, the trio of long-necked giants who together make up 90% or more of the large dinosaurs in the American West during the final stages of the Period. The Camarasaurus is the most common. Its thin neck, of moderate length, boxy head and long front legs contrast with the attenuated neck, pointed muzzle and short forelimbs of Diplodocus and the Apatosaurs. Apatosaurus itself matches the Dippy proportions closely except that every bone is greater in girth.
Fossil guts tell us intimate secrets about Jurassic table manners. Camarasaurs have longer, deeper ribcages than do Dippies and Apatosaurs – that tells us that it had more voluminous intestines capable of digesting tougher, more fibrous plants. Diplodocus and Apatosaurs possessed surprisingly small guts. The ribcage was shorter front-to-back and shallower. With such reduced gut volume, these dinosaurs had to be selective in choosing the richer, more concentrated vegetables – young leaves, succulent branches, and reproductive parts.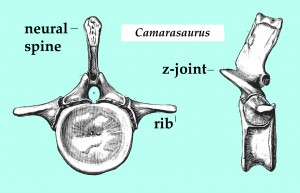 The trio all were unearthed in the two decades of the Great Jurassic Gold Rush, when eastern museums revealed the riches of the Jurassic fauna in Wyoming and Colorado. The first good Camarasaur skeleton was dug in 1877; the first good Apatosaur in 1879, and the first good Dippy in 1896.
You'll find the Three Amigos mingled in Late Jurassic bone quarries with some other, less common "long-necks" (known technically as "sauropods"). Brachiosaurus is like an extreme Camarasaur. The ultra-thin neck is twice as long; the forelimbs far taller; the torso extraordinarily deep. Barosaurs are extreme Dippies, with the neck pulled out far forward and the torso even more abbreviated.
Andrew Carnegie's Globe-Trotting Dippy
Andrew Carnegie, the multi-billionaire of the time, fell in love with Dippy skeletons dug in Wyoming by his Carnegie museum in Pittsburgh. Thanks to Carnegie's cash, precise replicas in plaster were given to all the great museums in Europe. The opening of the Dippy display in London drew immense crowds.
Soon there were Dippy posters, Dippy scale models, Dippy shaving mugs, Dippy dinner wear and all manner of Diplodocus bric-a-brac and souvenirs, some tackier than others. Diplodocus became the unofficial ambassador from the Jurassic Republic to the civilized world.
Among many other osseous marvels, the bony tail construction of the Dippy Clan was awesome. The scholars who studied the first good Dippy skeletons dug in the late 1890's noted with admiration the strength and flexibility of the tail. "A weapon for sure – and a useful third leg for standing up in a tripod posture." The first twenty vertebrae coming out of the hips make a powerful tail-base. There are muscle prongs sticking sideways and downward and especially upward. In life, powerful muscles attached to these bone protuberances. All Dippies could swing the tail with bone-breaking energy sideways and downwards and up-and-sideways. So could Barosaurs and Apatosaurs. Camarasaurs, Brachiosaurs and other Jurassic long-necks were far weaker in this anatomical sector.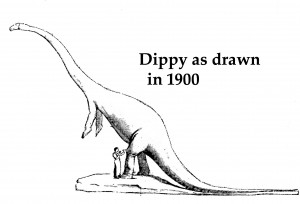 Carnegie's gift Diplodocus enthralled both the public and the anatomists at universities who scrutinized every limb bone, vertebrae and rib. But…..despite meticulous care in reconstruction, all of Carnegie's Dippies had a built-in error, a mistake of prodigious dimension. The same mistake was carried in Apatosaur diagrams. The tail was much, much m u c h too short.
It was an honest mistake. Carnegie Museum scientists estimated that the Dippy tail would come to a pointed end about fifty or sixty vertebrae from the hips. After all, that was the pattern in crocodiles and gators, living kin of the dinosaurs. Plus – most other giant dinos had similar specification – Stegosaurs, for instance, had strong anterior tails, built like a Dippy, and then the backbone in the tail got thinner and thinner and ended in a blunt point.
However……there were clues to a tail of unprecedented design. Quarries dug with Apatosaurs and Diplodocus in the 1870s & '80s gave some strange, thin, double-ended bones. Front and back were bulbous. The main body of the bones was a simple rod. What were these weird elements anyway?
1902 – Caudal Surprise in the Power River
Carnegie Museum men weren't content with their first Dippy discovery, excavated in southern Wyoming at Sheep Creek. In 1902, they explored further north, into the wild badlands cut by the Red Fork of the Powder River. This was bandit country. Butch Cassidy and the Sundance Kid had their hideout nearby. Christened "Hole in the Wall," the bandit camp was nestled deep in a winding canyon, overlooked by towering outcrops of red Jurassic rock.
In charge of the Red Fork expedition was the redoubtable W.H. Utterback. Utterback was already so renowned at the Carnegie Museum that he had a Camarasaur-like dino named for him: Haplocanthosaurus utterbacki. Utterback knew what he was doing. In a week or two he found a superb Dippy. Part of the skull was there, and much of the shoulders, hips, hind legs, and feet – enough for another museum display.
And there was tail. Utterback dug out from the hip region and got a fine series of vertebrae. Ten, twenty, then thirty segments. The tail bones were getting thinner and thinner, just as they should if Utterback was nearing the pointed tail tip. But then – just where all the professors had said the tail should come to a point, it kept on going. Forty, fifty, sixty vertebrae, all exceptionally thin and simple.
Utterback was a hard man to surprise – he had seen so much in his career already. And yet the Red Fork tail was astonishing. It NEVER ended. He estimated that he was about eighty vertebrae from the hips when the bones stopped. However, there was a bulgy joint at the end of the last bone, so he figured there had to be even more. He was right. Subsequent finds showed that the Dippy tail went to eighty five or even ninety segments – a record for dinosaurs.
The Carnegie Museum technicians rushed retrofit kits to London and all other foreign cities that had received Dippy replicas. Plaster casts from the Red Fork tail were added to the displays – soon the world gasped at the caudal spectacular.
Apatosaurs and Barosaurs turned out to have the same tail ending. It certainly looked like a whip. A well-mounted Dippy skeleton seemed to be holding a gigantic bull-whip at its rear end. Modern day lizards and crocs do use their tails to lash out at enemies. Many a zoo keeper in the Reptile House had the scar on his leg from an iguana tail strike. Unwary naturalists had been knocked over by a bull gator tail blow.
Anti-Damage Joints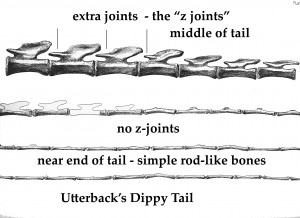 And the construction of the Dippy whip seemed ideal for Jurassic martial arts. Tail joints usually are complex in dinosaurs. There are prongs and flanges for muscles and ligaments, holes and channels for arteries and the spinal cord. These bits of anatomy could be damaged if the tail were whacked vigorously. The Dippy Clan had all these complexities in the front of their tails. But the whip-tail of Dippies was simplified to minimize the potential injury. Gone were the muscle and ligament prongs. Gone too were the arteries and nerves. Whip-Tail vertebrae were reduced to uncomplicated rods.
The strange bone-to-bone joints made sense in a whip context. Instead of ball-in-socket joints, the whip tail bones came together in a ball-on-ball joint. Both front and back ends of the whip-tail bones were bulgy, so a ring of cartilage must have been present to hold the bones together. Utterback had his crew recognized the unique possibilities: a Dippy tail tip could flex and bend in ay direction, faster than in any other known dinosaur family.
Tail damage couldn't be prevented totally – most well preserved Dippy tails have one or two bones that had been broken then healed during life.
Tail-Targets
Who got whacked? In the Late Jurassic, who was on the receiving end of tail-lashings? Predators of course. Diplodocus and Apatosaurs were not defenseless mountains of quivering veggie-saur flesh. They could counterattack. A big predatory Allosaur would be only three tons or so, a fifth the weight of a Dippy. If the predator crept close, hoping for a neck bite, the Dippy could reach out and whip the meat-eater when it was still forty feet away.
Long whips would be good for guarding Dippy babies as well. And there must have been whip-tail on whip-tail violence. Today, giant plant-eaters are a quarrelsome lot. Bull elephants spar with each other. Bull giraffes knock their heads sideways in neck-thrashing contests. Dominant females aren't reluctant to fight either.
When Utterback took a break from digging, he'd rest under a cedar tree and imagined what his Dippie's would have done, in the cool afternoons of the Jurassic. I do the same at my quarries. I can see great herds of Dippies and Apatosaurs, with a sprinkling of Barosaurs – they left their footprints in massed numbers in Wyoming, baby tracks and adult tracks together.
And I see the long necks swing sideways with an occasional "clunk" as young adult males joust. Then the tail contests begin. "Whack-whack….whackity-WHACK!" Dominant bulls and cows invoke their rank by hitting neighbors who get too close.
The Houston Dippy Who Taught The World About Whip-Tails
Whenever I pass through the Great Hall at our Houston Museum, I pause to look at the tail. It's a wonder of Nature. And this specimen was the first to announce the existence of my favorite clan of veggie-saurs – the Whip-Tails.