Someone asked me: What are you?  Science Guy or Artist?
Both.
Leonardo da Vinci said: "I don't understand a thing 'till I draw it." When you draw, your finger tips teach your brain what's important.
Cleaning Bones & Feeling Dinosaur Muscles
Most fossil-cleaners are good artists.  As they chip away the rock, their finger tips record each bump and hole, every place that's smooth, every place that's rough. Expert fossil-cleaners dream about the fossil – they see it rotating, turning every which way.
Let's say we have an ankylosaur skeleton, fresh from the field. We clean off the rock slowly. Every time we have a square inch clean, we paint thin glue on it (so it doesn't crack and fall apart). As we do, we make sketches of the bone. That helps plan the complete cleaning. It's X-ray vision, sort of.  As we sketch the bone we can draw in the parts of the specimen that are still buried in the rock.
For instance: let's say we have the upper left arm (humerus). And we have the elbow end cleaned, but the shoulder end is still in the rock. A sketch will help us imagine where the bone is and how to chip the rock off so we don't break anything accidentally.
Putting Muscles and Ligaments Back On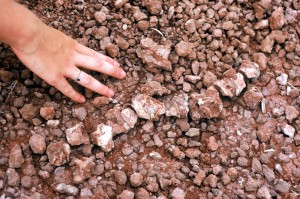 Fossils from a Dimetrodon hip bone.
Texture of fossil bone is important:
Rough spots full of squiggly ridges are where tough ligaments and tendons attached to the bone.
Smooth spots are where soft muscle attached.
Bones with big pits are armor plate – in life the pits were filled with a thick layer of finger-nail like skin.
At the Zoo with Brachylophosaurus
Now let's shift to Leonardo, the Brachylophosaurus,  the dino-mummy now visiting the Houston Museum of Natural Science. I wanted some drawings of the critter, and to prepare I spent a lot of time watching live animals.
I sketch live critters in the zoo all the time.  And I make diagrams of the heads, bodies and legs of skeletons from species that are still alive today. I can't imagine a live Brachylophosaurus  or any other dinosaur without studying rhinos and elephants,  ostriches and cassowaries, giant tortoises and water buffalo.
Tweensy Gator Hands
Most plant-eating dinos have hands like the one in the little vegetarian dinosaur Hypsilophodon.  There were five fingers in this animal and most other herbivores. Carnivores sometimes have  three, as in Velociraptor,  or two as in T. rex  and all members of the rex family.  In all dinos, meat-eater and plant-eater,  only the inner three fingers had claws. In herbivores the claws are blunt and hoof-like. Carnivores tend to have sharp-tipped claws. In all dinos, the outer two fingers had no claws at all.
The five fingers/three claws is standard equipment for most ancestors of dinos too.
Who has this  five/three  hand in a zoo today?  Only in one clan – gators and crocs. Lizards and turtles have claws on all five fingers.  Crocs & gators have three claws, five fingers, no claw on outer two. Watch out when you draw dino hands – a lot of books make the mistake of giving a dino  four or five claws. Even the movie "Jurassic Park" makes that error with the Triceratops. Don't YOU do it! Remember: five fingers but only three claws in most plant-eating dinosaurs.

No Bowling for Duck-Bills
Duck-bill dinos have a puzzling variation on the basic veggie-saur hand. The outer two fingers are fine – no claw or hoof. But there are only four fingers in total. Which is missing? The thumb. Duck-bills are the only dinos without any thumb. That's strange because the thumb is usually one of the strongest fingers in all other dinosaurs. Even T. rex  has a thumb. There's a predatory dino with just one finger – Mononychus – and that single finger is, you guessed it, the thumb.
One result of being thumb-less is that when you're choosing a bowling team, you don't want a duck-bill. They can't hold the ball. Continue reading →