Part One:
She Should Have Been Caught and E A T E N !
Lucy evolved into us. Really, really (to quote "Shrek.")
Her species, Australopithecus afarensis, or something extremely close, changed over three million years to become Homo sapiens – the species that includes you and me.
So we should treat Lucy with respect…….
….but wait. There's a problem. It shouldn't have happened. Lucy and her whole species should have been gobbled up by a legion of voracious, bloodthirsty carnivores! She shouldn't have had any time to evolve at all.
Darwin Makes Sense (usually)
Evolution should be logical – when we have enough data. Textbooks used to say that Lucy evolved from an ancestor who was built like a chimp. But Lucy's knee and ankle and hip bones were NOT chimp-shaped. The design of Lucy's joints is very close to what we have – so we know that Lucy walked upright, on just her hind legs, with left and right knees close together.
Fine. Did leg evolution make Lucy better? Faster? That's what we'd expect. But it looks like evolution made Lucy s l o w e r ! Chimps run very fast and can change direction in an instant. These apes zip around on all fours, running on their knuckles. A modern human has great difficulty catching a running chimp – I know, I used to be a zoo-keeper in charge of three boisterous chimps.
Lucy couldn't match chimps in speed and maneuverability. Since she walked just on her hind legs, her arms were useless dead weight in running. Plus – she was very short in the legs. Her shins and thighs were far shorter than in modern humans. She was not nearly as fast as we are today.
Why would evolution make Lucy slower?
Lucy – Evolved for Holding Babies on the Open Plains?
The standard theory said that Lucy's upright posture was fit for moving across savannah, open grassland with scattered trees. She could walk for hours and use her hands to hold her babies or an armful of fruit or a big Pliocene salad or whatever. Meanwhile, her chimp ancestors stayed in the forest. Sounds good……except we have a huge problem. The savannahs were occupied by a whole host of predators who would love to eat Lucy and her kind.
In fact, Lucy was evolving during the worst possible time. The australopithecine clan evolved between 5.8 to 1.8 million years ago. This interval produced the scariest variety of big feline meat-eaters the world has ever seen. Here's what was out there, ready to catch Lucy and her kin.
Leopards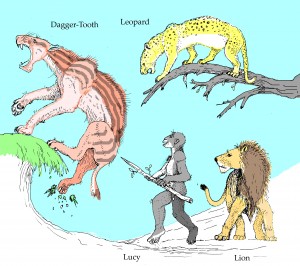 Leopards are stealth felines who lived with Lucy. They had short, wide paws, flexible legs and body. That's a build excellent for climbing rocks, hiding in burrows, ascending trees – and sudden ambush! Body weights went from 50 lbs to 200 lbs.
Lions & Tigers
Lucy's neighbors included lion-like cats, huge predators up to 500 lbs, with massive paws that could swat down a water buffalo. Legs were longer, straighter than a leopard's and speed over level ground was higher. Because of the great weight, climbing was less agile than a leopard's.
Dagger-Tooth Saber Cats – Homotheres
Lucy's world was jam packed with saber-toothed cats. The biggest were the Dagger-Tooths, who were built like a cross between a cheetah and a leopard, with long legs, excellent for fast running with some climbing. Sizes ranged from up to 500 lbs. The jaws were like a rattlesnake's. They opened so wide that the upper fangs were exposed and ready for action. The upper fangs were long, wide blades with very sharp, saw-toothed edges. Homotheres slashed and stabbed so deeply they could kill an elephant.
Long, muscular necks let saber-cats swing their head down like a battle-ax.
How could Lucy avoid these deadly cats?
Imagine that you are Lucy. You're waking along the savannah, carrying a load of melons. Then, without warning…..WHAM! A leopard leaps on you, bites your neck, and you are leopard-kibbles. Or….you're resting on a rock when…..WHAM! A pride of lions jump you and tears you apart. Or….you're plucking figs from a fig tree when…a Dagger-Tooth jumps up from the tall grass. You try to run as fast as you can….but in ten seconds…WHAM! Zip-Zap! The cat slices you into bite-sized pieces.
Lucy Defended Herself With Spears?
An old theory says that Lucy's kind used spears and rocks for defense. But that notion doesn't work. We find no stone tools at all with Lucy's bones, not a spear point or a stone knife. How about a wooden spear? Chimps today make mini-spears from twigs and impale bugs and little furballs. Sure, Lucy might have picked up a branch and chewed the end to make a point.
But if Lucy poked a Dagger-Tooth in the butt with her spear, she'd only make him mad.
No, wooden spears aren't enough to drive away lions and leopard and saber-toothed cats.
Conclusion: Lucy and All Her Kind Should Have Been Massacred by The Big Cats.
We're left with a big problem. How did Lucy get away?
Please! Help our Lucy!!!!!
Send in your suggestions about how to avoid predators!
Interested in learning more about Lucy? Check out my previous blog posts on Australopithecus afarensis migration.