The annual Geminid Meteor Shower peaks this weekend, and we've got some tips for stargazers hoping to catch it.
The Geminids are unique among meteor showers because they are associated not with a comet but with an asteroid, 3200 Phaethon. Comet orbits are so oblong that that they cross Earth's orbit almost at right angles. For most meteor showers, then, Earth doesn't rotate us to face the debris field until after midnight. The less oblong orbit of an asteroid meets Earth's orbit at a shallower angle. Thus, we rotate to face into the debris field earlier in the night, even before midnight. With Geminids, then, we see significant activity as early as 9 or 10 p.m., although the shower will likely peak just before dawn.
A new moon falls on Thursday, Dec. 10 this year. That makes Sunday night's moon a slender crescent which sets by 8 p.m. This should guarantee us nice, dark night for viewing once the shower gets going. The Geminid Meteor shower peaks every December and is one of the best, most reliable showers, producing an average of 100 meteors per hour.
They're called the Geminids, by the way, because we see them seem to 'radiate' from an area of sky near Castor, a bright star in Gemini, the Twins. In December, Gemini is still rising at dusk, but it has cleared the horizon by 8 p.m., passes high overhead at about 1 a.m., and is in the west by dawn. Remember, though, that not all meteors will be in Gemini! They just seem to radiate from that direction, which means that wherever they appear, the streak will seem to move away from Gemini.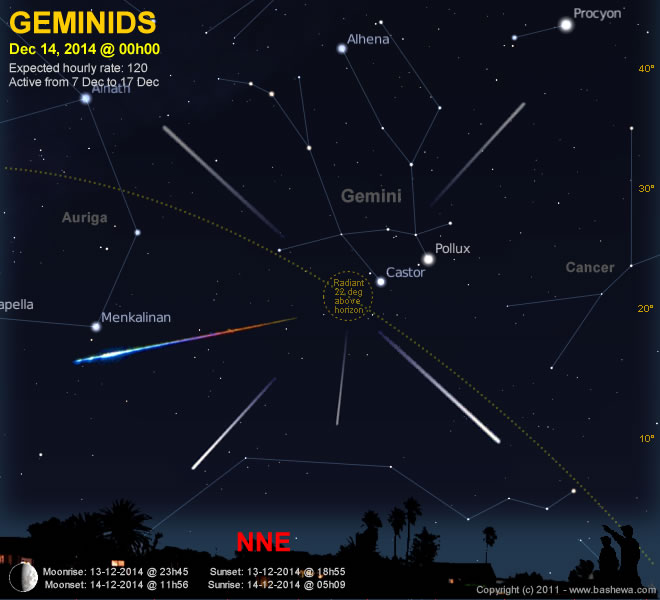 Therefore, it's best to lie on your back so you can observe as much of the sky as possible at once. Remember to have patience, as the 100 meteors per hour is about one or two per minute on average. One minute can be a long time if you waiting for something to happen.
As with all showers, the Geminid Meteor Shower will be best viewed away from city light pollution, weather permitting. The George Observatory will be open Sunday night until midnight for observation. For directions to The George, located just an hour southwest of Houston, click here. Entry to Brazos Bend State Park is $7 per person; free for kids under 12. You don't need any special equipment for viewing, just a chair, blankets and maybe some hot apple cider.