Bust out your planners, calendars, and PDAs (if you are throwback like that), it's time to mark your calendars for the HMNS events of this week!
Last week's featured #HMNSBlockParty creation is by Alexis Fiero (age: 9):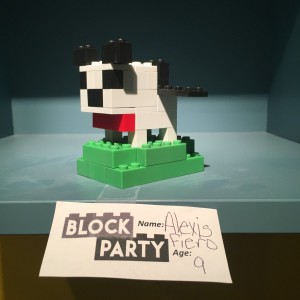 Want to get your engineering handwork featured? Drop by our Block Party interactive play area and try your own hand building a gravity-defying masterpiece. Tag your photos with #HMNSBlockParty.
After Hours Behind-the-Scenes Tours
Monday, Mar. 7
6:00 p.m.
Amber Secrets: Feathers from the Age of Dinosaurs
Amber Secrets, Feathers from the Age of Dinosaurs features over 100 specimens dating as far back as 99 million years ago. Plants, fungus, vertebrates and invertebrates such as insects, spiders, scorpions, snails, millipedes and centipedes are represented. Highlights include feathers and lizards encapsulated in amber. Each polished translucent gem provides a window to the time of the dinosaurs.
La Virgen de Guadalupe: Empress of the Americas
Going back to the 8th century in a struggle between Muslim and Spanish naval forces and on to the appearance in the Aztec capital in the 15th century, Virgin of Guadalupe was adopted as a symbol in Europe and the New World during times of friction. Through the artwork and artifacts on display, your guide will trace the increasing role the Virgin of Guadalupe played in society.