In Part One we learned the frightening facts: Lucy was surrounded by formidable felines. She was too slow to run away and she didn't have weapons to repel 150 pound leopards or 500 pound  homothere saber-tooths.
In Part Two we discussed even more of the fearsome predators surrounding Lucy, and began to discuss how futile fighting back would be.
How Could Our Lucy Survive a Legion of Cats and Hyenas?
How did she defend herself?
Here are some suggestions:
She made sharp-edged knives out of broken antelope bones and buffalo horns

This was a popular theory in the 1950's.  In South African caves, Lucy's relatives are found with hundreds of broken antelope bones, horse bones, and broken horns form all sorts of hoofed creatures. Conclusion: Australopithecus didn't make stone tools – they made bone-tools.
Supposedly Lucy and her clan smashed antelope legs and used the sharp-edged ends the way a hockey fan would use a broken beer bottle in a bar-fight. "Poke, whack, stab!"
Broken bones can be nasty weapons, it's true, but….
Hyenas broke the bones
Careful analysis of the way the bones were broken proved that Australopithecus didn't do the breaking. Teeth marks on the bones and the style of breakage matched what we see today around a hyena lair. All of those cave bones had been smashed by the big teeth of hyenas and maybe big lion-sized cats. The predators smashed Australopithecus bones too.
Maybe – Lucy Smelled Bad – Or Tasted Bad
Seriously – this is a theory we must consider. A few animals stink so thoroughly that predators won't attack. Skunks are a good example. Even mountain lions are repelled by one spray from the stink glands of a Texas skunk.
And meat can stink or be poisonous. Toxins in the Fugu fish are deadly – if you go to a restaurant and gulp down the wrong part of your Fugu, you'll die. So…..maybe Darwinian processes gave Lucy toxic flesh.
But primates don't evolve super-stink
Today we just don't find any lemurs, bushbabies, monkeys or apes with toxic meat or stinky glands.  In fact, most stinky mammals are predators – skunks, ferrets, and stink-badgers. So, although it's theoretically possible, we should not be too enthusiastic about Lucy evolving chemical defenses.
Let's Review Lucy's Potential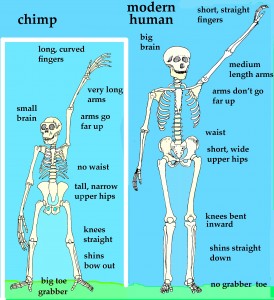 Let's review what Lucy could do – we have nearly all the bones from the skeleton if we supplement Lucy and other Ethiopian finds with close relatives dug from South Africa. Follow along by scrutinizing our Lucy-chimp-us body diagram.
No Grabber Toe
Lucy's big toe was like ours – it didn't face away from the other toes the way a chimp big toe does. So Lucy couldn't grab a branch and climb like a chimp.
Knees Together
Chimps can't stand perfectly upright, because their knees slant down and out. But Lucy could stand in a modern posture – her joints were shaped so the right and left thighs came down and towards each other. She'd walk and run like us modern humans too – knees close together.
Strong Shins & Thighs
Lucy did have muscular, short shins and thighs. No, she couldn't sprint as fast as a modern human but she could accelerate fast and turn quickly. And short legs actually are good for climbing.
Modern Hips
Lucy had wide upper hips, like ours, not narrow hips like a chimp's. Wide hips are good for supporting guts when standing and running upright. And….wide hips could be good for climbing straight up a tree, if arms and legs work together. We see modern people shimmying up coconut palms this way.
Lucy – NOT America's Next Top Model – Compact Torso
Today's humans have long waists – especially in the Hollywood starlets and runway models. Not our Lucy. As the song goes, Lucy had "..strong thighs and shins… and her torso…even more so." Lucy had no waist. Her barrel chest was set on top of her wide hips.
That gave her a low center of gravity, a design useful for three-dimensional movement. Lucy was a natural gymnast! She could jump and twist and do somersaults.
Shoulder-Socket Half Chimp
Lucy's shoulder socket was half-chimp, half human. The joint let her raise her arms further up, above her head, than we can – but not as far as a chimp. Raising your arms high is useful for climbing vertically; hand over hand (the way we were taught in gym class in seventh grade).
Long Arms
Lucy is half-chimp in arm proportions too – her whole arm is longer and stronger compared to her legs than what we see among modern people. And strong arms certainly would assist in climbing.
Curved Fingers
So far, our review of Lucy's anatomical equipment is a surprise – she'd walk like a modern human on the ground, but she might be able to climb vertically much better than we can. However – if she really was supposed to climb, she'd need long, curved fingers to wrap around branches.
Did she? Were Lucy's fingers more curved than ours?
YES!!!!!!
Australopithecus did have more curve in the digits. Not as much as in a chimps but still more than in modern humans.
So, after reviewing all of Lucy's potential, we now can give her advice:
LUCY!  To avoid being eaten…..STAY NEAR A TREE!
She wouldn't have to climb like a chimp, but she would have to be near enough to a tree so she could shimmy up when the cheetah charged or the hyena pack came galumphing over a hill. She wouldn't have to scoot over a branch, holding on with her big toe, chimp-style. But she could avoid most meat-eaters by going vertical.
The Old Theory Is WRONG! Lucy Did Not Evolve on the Open Plains.
Back to our original problem: the old theory said Lucy and her kind evolved to move over open, tree-less terrain. We now have new evidence – from fossil herbivores – that the theory is incorrect. If Lucy lived in treeless areas, her bones should be found only with hoofed animals adapted to plains– the wildebeests and gnu, for example. And zebras. We shouldn't find woodland herbivores like black rhinos and mastodons.
In fact, the antelope and rhinos and hippos and mastodons we dig with Lucy are mostly woodland critters, adapted to move over grassy areas with many bushes and clumps of trees nearby.
Mystery Solved! Lucy Evolved to Stay Near an Escape Tree.
Her family could forage on the ground. And climb up and away. And maybe they did use pointed sticks to jab down at any leopard who tried to follow.
Our ancestor, Lucy, was a success because she made her world three-dimensional.