Bust out your planners, calendars, and PDAs (if you are throwback like that), it's time to mark your calendars for the HMNS events of this week!
Last week's featured #HMNSBlockParty creation is by Tarum (age 8).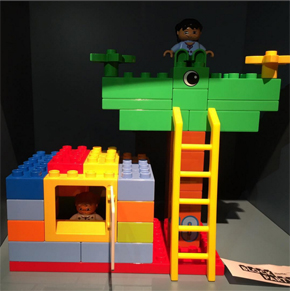 Want to get your engineering handwork featured? Drop by our brand-new Block Party interactive play area and try your own hand building a gravity-defying masterpiece. Tag your photos with #HMNSBlockParty.
La Virgen de Guadalupe: Empress of the Americas Now Open!
She's been a symbol of hope, protection and comfort to her followers for almost 500 years, but why? What is it about her that has inspired millions throughout the Americas? La Virgen de Guadalupe appeared to Juan Diego in 1531 and changed his life. Today, her image represents not only a great miracle, but the identity of a nation of believers. Trace the story back to its origins in our limited engagement exhibition.
Lecture – One Symbol, Many Visions: The Stories of Our Lady of Guadalupe by David Tavarez, Ph. D.
Tuesday, Dec. 15
6:30 p.m.
Our Lady went through multiple transformations, and our current views do not reflect how the Virgin of Guadalupe was seen in earlier times. Dr. David Tavarez will introduce you to the many faces of a beloved icon that now encompasses many aspects of Latin American identity. The evening will include a festive Our Lady of Guadalupe procession featuring indigenous regional costumes and banners, music and samples of sweet tamales and atole – a traditional milky corn drink.
This event is cosponsored by AIA, Houston Society with support from the Institute of Hispanic Culture.
Dinosaurs Alive! 3D Opens Tuesday, Dec. 15
Dinosaurs Alive! 3D is a new global adventure of science and discovery – featuring the earliest dinosaurs of the Triassic Period to the monsters of the Cretaceous "reincarnated" life-sized for the giant screen. Audiences will journey with some of the world's preeminent paleontologists as they uncover evidence that the descendants of dinosaurs still walk (or fly) among us.