This Friday we're kicking off our celebrations in honor of the George Observatory's 25th anniversary with a members event at the George! Leading up to this anniversary, we launched our S.O.S (Save Our 'Scope) fundraising campaign to restore the mirror, and, thanks to your generous support, we reached our goal of $80,000 this past spring.
Optical Mechanics, Inc. has been working on our 36" mirror for several months now and in that time has made great progress as well as some surprising findings. The mirror is now 98% finished — but it's the work for that final 2% that's proving to be the most critical, taking the mirror from "good" to truly top notch!
This 2% involves resolving issues with the mirror that are a direct result of the original grind on the mirror.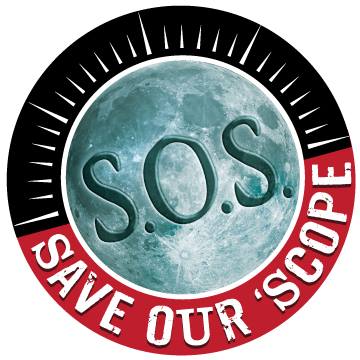 The technology used to grind the mirror originally, while cutting edge for the time, left the mirror susceptible to deterioration from imperfections. These imperfections, microscopic bubbles and fissures, allowed for tiny places where "gunk" could get in and stick. Once that formed, there was no way to get a coating to stick to the surface. We ran into this issue in 1994, when we re-coated the mirror, and in this case, we were eventually able to overcome the imperfections. However, this time around, it was absolutely time to regrind the surface and apply a new coating.
If the 'scope had been put in the desert or on top of a mountain with a very low amount of humidity, these imperfections may have never compromised the scope. However, both Louisiana and Houston are very high humidity locations. HMNS has owned the telescope and dome for 25 years now, however the mirror itself is 50 years, with LSU having owned the 'scope for the first 25 years of its life. It has been a good scope for a very long time, for many people. We have always felt strong in our conviction that the 'scope, like all of HMNS, should be available to everyone in the greater Houston area and Texas. We are close to people.
The new technology being used to grind our mirror will give us a far superior mirror than it has ever been. We are so excited to get it home and to see the difference!
That being said, the restoration process is behind where we had anticipated, but we've decided that this time is more than worth it to get the high quality we know we will receive if we do not rush this project.
The mirror will be ready and delivered home as soon as possible this fall and we'll update you when we know it's on its way!
The process to grind the mirror is fascinating and time consuming. They grind a while, take the 500 lb. mirror off to check it and then grind the curved surface again and again. Ours is a hyperbola, which makes it even a bit more complicated than other types of telescope mirrors.
Here are some photos of how they carry the mirror and grind it:
We will keep you posted and will let you know as soon as the mirror arrives home. Check HMNS.org and the George Observatory Facebook page for updates.