What would you say to someone who wanted to send you one of the biggest flowers there is? Would you want to stick your nose amidst its fragrant petals and inhale deeply, savoring the unique scent? Well, I absolutely would not. I'd wear a mask with a HEPA filter on it to avoid getting sick. You might be thinking that either I have the worst allergies in the world or that I have lost my mind. But you'd be wrong!!! The flower of which I speak is the aptly named Corpse Flower.
Indigenous to Sumatra, the rare and endangered Rafflesia arnoldi has petals roughly the same color as rotten flesh and emits an odor that smells amazingly like a dead body. Its impressive bloom can reach up to 3 feet in diameter, but only lasts for a few days.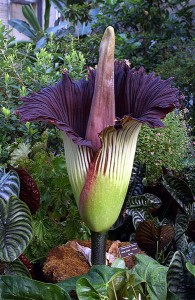 Rafflesia's colossal bloom is impressive, but it is unbelievably dwarfed by another corpse flower, the Amorphophallus titanum. Nicknamed the titan arum, this flower's inflorescence (what looks like the big petal part) is a deep crimson shade, mimicking the hue of animal tissue and can reach a diameter of roughly 3 feet with a 10-foot circumference. They can grow up to 9 feet tall.  The tip of the titan also helps attract meat-eating insects by being very close to human body temperature, and can easily be 10°F hotter than the surrounding air temperature. Titan arum's putrid aroma of spoiled, rotten meat can be detected by the human nose over a half a mile away.
Now, while these flowers' stenches can be extremely off-putting to people, it is like an intoxicating nectar to certain species of insect. Usually, those bugs that are typically drawn to dead and decaying bodies are attracted to the corpse flower. A throng of flesh flies and carrion beetles cover the odoriferous plants and help them to pollinate.
I'll leave you with one quick fun-fact about the corpse flower; indigenous people originally thought they were carnivorous because of the reek coming from the colossal bloom, so they chopped them down whenever they could to avoid being eaten.