Bust out your planners, calendars, and PDAs (if you are throwback like that), it's time to mark your calendars for the HMNS events of this week!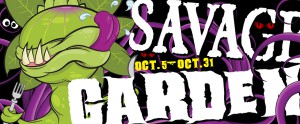 Savage Garden Now Open!
Oct. 5 – 31
Discover the renegades of the botanical world at the Cockrell Butterfly Center. These baddies eat meat, defy death and break all the rules. Learn how they grew to be so nasty and why they act the way they do. It's a Halloween season creep-show you don't want to miss! But hurry — the show ends Oct. 31.
Lecture – How to Clone a Mammoth: The Science of De-Extinction
Tuesday, Oct.14
6:30 p.m.
Could extinct species, like mammoths, be brought back to life? The science says yes! Dr. Beth Shapiro, evolutionary biologist and pioneer in "ancient DNA" research, will present the astonishing and controversial process of de-extinction, which could redefine conservation's future. From deciding which species should be restored, to sequencing their genomes, to anticipating how revived populations might be overseen in the wild, Shapiro vividly explores the extraordinary cutting-edge science that is being used today to resurrect the past – along with its practical benefits and ethical challenges. A book signing of Shapiro's new book How to Clone a Mammoth: The Science of De-Extinction will follow the lecture.
Lecture – The People of the Rainforest with Adam Mekler and Dirk Van Tuerenhoust, Ph.D.  
Wednesday, Oct. 15
6:30 p.m.
Ceremonial objects, headdresses, masks, body costumes–all unique to the different tribes of the Amazon Rainforest. In conversation with curator of anthropology Dr. Dirk Van Tuerenhout, Adam Mekler, will share stories of everyday life among the rapidly disappearing indigenous groups of the Amazon. Aspects Amazonian cultures will be illustrated with beautiful images of rare tribal artifacts. Adam Mekler is curator of Houston Museum of Natural Science's unparalleled Amazonia collection.