Violins are amazingly versatile instruments; they are equally at home whining their melodies in symphony orchestras in New York as they are on front porches in Appalachia. Apparently, they are even appreciated in Hell.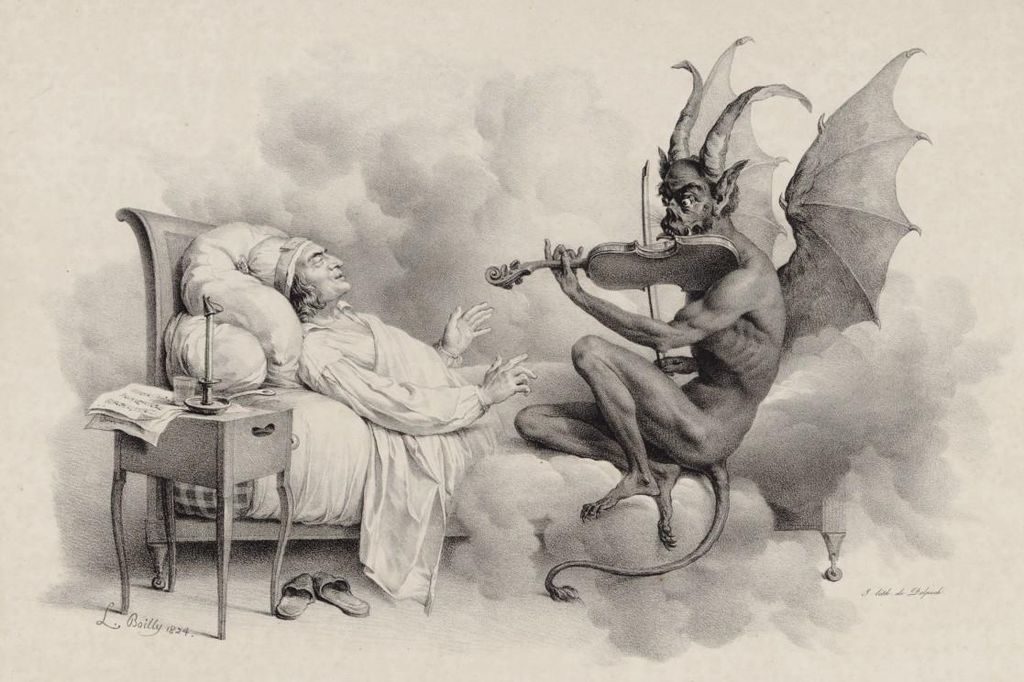 For those of us who have heard the song The Devil Went Down to Georgia by the Charlie Daniels Band (and I imagine that's most us) the association of Satan with the fiddle is familiar, but the roots of that association go much further back in time than 1979, when the song was released. Today on Beyond Bones we're going to explore the origins of this satanic association.
Before we begin our discussion of Satan and his preferred musical instrument, let's clear up a common source of confusion related to the subject and talk about the differences (or lack thereof) between a violin and a fiddle. In truth, there are no differences. The same instrument is called a "violin" when playing classical and jazz music, and a "fiddle" when playing folk, country and bluegrass. So the different names for the instrument really just relate to the style of music being played. Some fiddle players have been known to alter their instrument to facilitate their particular fast-paced style, but not all of them do.
This interesting, multiple personality aspect of the violin is reflected in the wide variety of folkloric associations of the instrument with the Devil. In the past, village bards and virtuosos were equally subject to rumors that they acquired their skill through dealings with Satan. One particularly high-profile student of Lucifer (at least according to legend) was Niccolo Paganini.
Paganini was an Italian violin virtuoso who essentially redefined how the violin was played in the early 19th century. His skill with the instrument and his frequent utilization of new techniques, which made his music sound like nothing heard before, caused some who witnessed his performances to suspect he had supernatural help.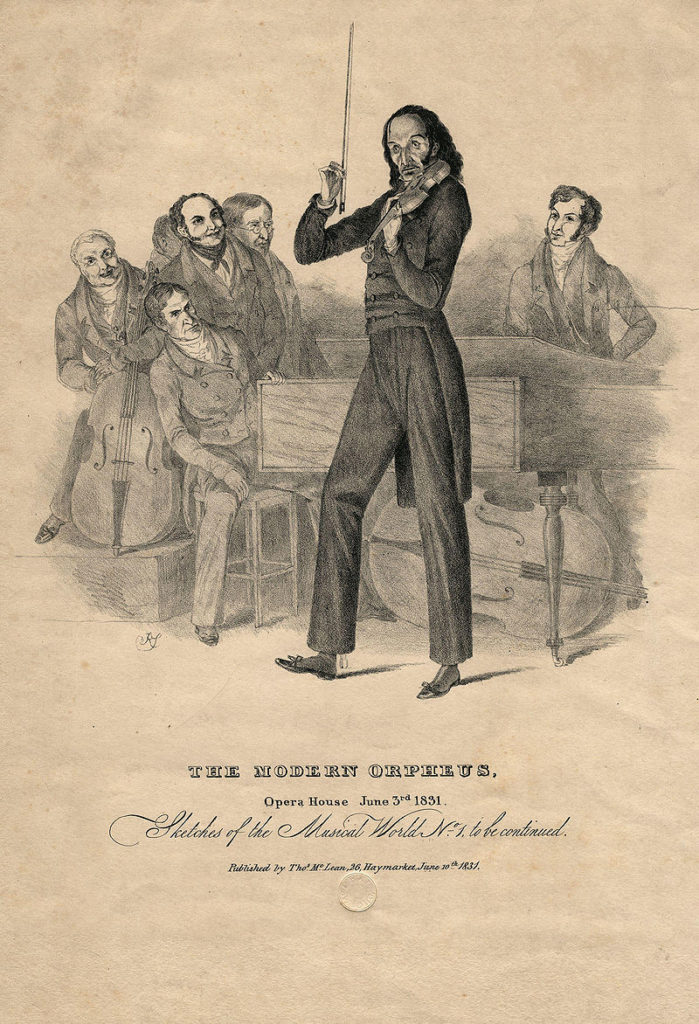 Paganini isn't the only classical musician to supposedly rub elbows with the dark one. Famous violinist and composer Giuseppe Tartini claimed that his most famous work, the Devil's Trill Sonata was inspired by a dream in which he sold his soul to the Devil in exchange for a few wishes. After getting his wishes granted, he handed the Devil his violin and asked if he (or it?) knew how to play. The Devil took up the instrument and played a song so beautiful that it took Tartini's breath away. When he awoke, Tartini rushed to write down what he could remember of the song. The result became his most famous work. Tartini claimed that his song was nothing compared to what he had heard in his dream.
SIDE NOTE: What if it wasn't a dream and Tartini actually sold his soul to the Devil in exchange for the song. Maybe the Devil put him into a trance before leaving so that when he woke up, he would think it had been a dream. This has absolutely nothing to do with the subject of the blog, it's just a chilling thought. Poor, gullible Tartini.
Moving a little lower on the scale of society, there are many old stories of local bards who were students of the Devil. These local legends have very ancient origins. According to this article it was once widely believed that one could learn music from a variety of supernatural beings, including fairies and elves. In ancient times, wannabe musicians would wander off into the forest hoping to get lessons from these creatures. It is generally believed the Devil's association with music-teaching was inspired by these earlier traditions involving mythological creatures, who early Christians associated with demons. As Christianity spread, Satan took on the jobs of many now-defunct magical beings, including the job of music teacher.
So Why the violin? Well, when you think about it, the violin isn't the only musical instrument that has Satanic associations. Other instruments, such as guitars, have been subject to similar mythology. The famous blues guitarist Robert Johnson supposedly met Satan at a crossroads in Mississippi at midnight and sold his soul in exchange for mad guitar skills.
The real inspiration behind the association of certain musical instruments with the Devil is not the instruments themselves, but rather the music they played: music that encouraged dancing and drinking. One thing that guitars and violins have in common is that they are lightweight and portable. In the past, they were associated with transient musicians who would come to town to busk on the streets or play at parties or festivals.
I know most of us don't associate violins with wild parties, but believe it or not there was a time when the electric guitar didn't exist and traditional instruments were all there was to listen to. Before radio the only music most people heard was the music that accompanied church services and weekend dances. Church services were accompanied by heavy pianos or organs (respectable instruments) while stringed instruments, which were light enough to carry to whatever barn was housing the party that weekend, accompanied more lively get-togethers.
So there you have it, the reason Satan likes violins so much is because they make us want to dance. I bet you didn't expect that! As for why classical musicians like Paganini and Tartini were also subject to rumor, even though they obviously weren't playing at rowdy barn gatherings, it seems they inherited an already old association with Lucifer. The association had been around for centuries in the form of local legends and simply found new ways to express itself in the rumors that circulated about them, or in the case of Tartini, that he circulated himself.
SIRE NOTE: Other blogs on the subject have pointed to the fact that the violin originated in the Middle East as a possible reason for the instrument's association with the devil. But if Europeans associated everything they got from the Middle East with Satan, there wouldn't be very much for a good Christian to enjoy, like roads, numbers, algebra, written language, the wheel… pretty important stuff. And considering that the earliest depictions of violin-like instruments in Europe show the instruments being played by angels, it seems doubtful the violin's satanic associations come from its Middle Eastern origins.

If you're interested in learning more macabre information about everyday objects, come check out HMNS' special exhibition Death by Natural Causes. We don't have much about the Devil in there, but we do have lots of information about how you can meet him sooner than you expected (that is, if you've been naughty during your lifetime). The exhibit covers bizarre ways the world around us can kill us and includes many grimly fascinating artifacts such as a poisonous dress and a killer tea set