Excursion – Travel Night – Norwegian Voyage: Vikings and Northern Lights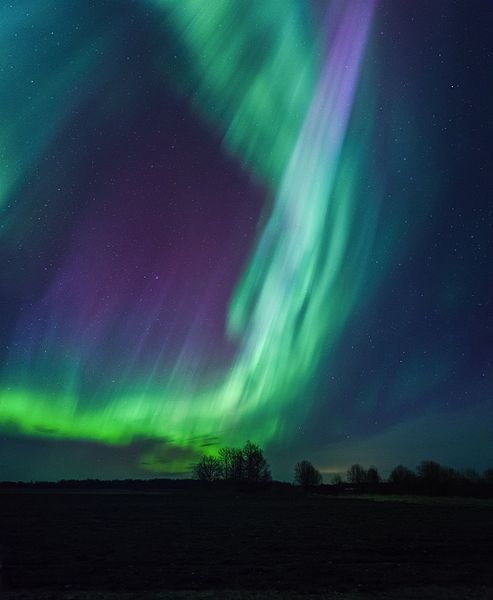 Image courtesy of Wikimedia Commons: Author: Kristian Pikner
***Note: No cost to attend the information meeting regarding the March 2018 trip.***
EXCURSION  TRAVEL NIGHT – NORWEGIAN VOYAGE: VIKINGS AND NORTHERN LIGHTS
Tuesday, March 7, 6:30 p.m.
Join us on March 7 to learn about the Museum's "Norwegian Voyage: Vikings and Northern Lights," which is scheduled for March 16-26, 2018 with Dr. Carolyn Sumners, HMNS VP of Astronomy and Dr. Dirk Van Tuerenhout, HMNS Curator of Anthropology. Registration incentives will be offered to all those in attendance at the March 7 Travel Night.
In the footsteps and seaways of the Vikings, we set out to Iceland and Norway to hunt the Northern Lights. With eight nights above the Arctic Circle to spot the magnificent auroras dancing in the night sky, this trip is timed to also have ample daylight to enjoy stunning nature and historic sites. We start in Reykjavik, Iceland and experience the majestic geology and scenery of Iceland. Then on to Norway's most eastern town Kirkenes where we board MS Finnmarken. Our southbound journey meanders along the scenic coastline of Norway and includes historic Viking sites, picturesque Scandinavian villages and medieval architecture will let travelers truly experience Norwegian culture and heritage.
This is a cruise like no other! Our ship MS Finnmarken has been designed by Hurtigruten to offer travelers the utmost comfort and ease of visiting Norway, while continuing as the lifeline for coastal towns providing daily deliveries and shipments of food and supplies.
Travel Night is free for all those interested in learning more about this once-in-a-lifetime trip.
Gladiators: Heroes of the Colosseum
Members Opening: March 10 – 12. Public Opening: March 13.
Gladiator combat has evolved into one of the defining symbols of ancient Roman culture. Immortalized by films, gladiators locked in mortal combat for the entertainment of the crowds in Rome's Colosseum are larger-than-life figures in our mind. However, what went on behind the scenes? The exhibit, Gladiators: Heroes of the Colosseum, provides answers in two arenas: that of the gladiators and that of the Colosseum. The exhibit takes us through time and through the Roman Empire. Featuring original artifacts from the Colosseum never before exhibited outside of Italy, this large international exhibit illustrates the compelling and fascinating world of the gladiators.
This exhibit also explores the behind-the-scenes lives of the gladiators and the colossal stage upon which their fate was determined, the Colosseum. Theirs was a world of specialized training, discipline, regulation, and peril, but also of hope of fame, redemption and even wealth and freedom. Original armor and related archaeological artifacts from the Colosseum and other Italian museums are included.
Organized by Contemporanea Progetti, srl and Expona in collaboration with the Colosseum, Rome. Local support provided by HMW Entertainment.