By Jennifer Gerbode, HMNS Volunteer Coordinator
Hi everyone, it's Archie the Wandering T. rex! I recently had some downtime in-between travels, so I decided to go on a small adventure of my own right here at home. The museum is always a busy and popular place! Between all the tours, the cool members events, and special exhibits, we need a lot of hands to make sure everything goes smoothly. Thankfully, we have a great group of people that do just that!
HMNS volunteers give their time to the museum and share their love of science and learning with the public. Anyone can be a volunteer, provided you are at least 18 years old and can commit to 40 volunteer hours per year. The volunteers tell me this is really easy to do; a couple hours every other week will do it.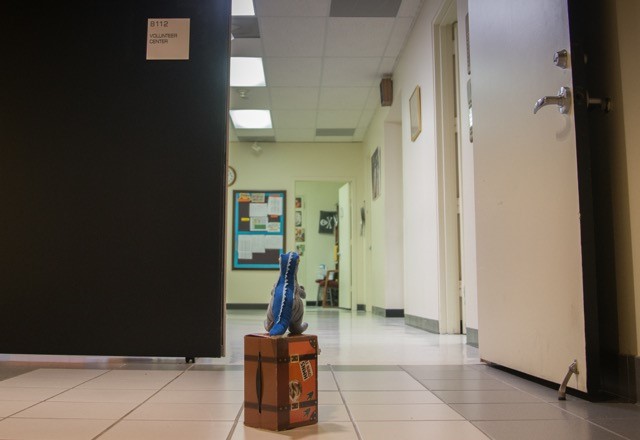 Since it is summer, the Volunteer Office might seem quiet, but that doesn't mean volunteers aren't busy! Year-round, volunteers give guided tours to visitors of all ages in the permanent and special exhibit halls—and even take museum-related presentations out into the community via the Docents-to-Go program. During the school year, they also help with the HISD 4th grade program and the Early Investigations program geared for Kindergarten – 3rd grade.
Once any morning tours and activities are over, it's time for a quick lunch break! I sat down with some of the volunteers as they poured over exhibit halls notes and shared anecdotes about their time on the floor (Don't worry! Some of these stories will be shared in a future blog, so stay tuned!)
After lunch, I decided to tag along as one of the volunteers grabbed a special key and went to open up a touch cart. As the name implies, touch carts are filled with touchable items that pertain to the exhibit where the cart is located. Most of the exhibits have at least one touch cart, while a few popular halls have more —The Morian Hall of Paleontology has six! To work a touch cart, volunteers don't have to be an expert on the entire hall; they only need to know a few key facts about one or two intriguing items in the cart.
We ended up talking about mummification in the Hall of Ancient Egypt at a cart the volunteers lovingly call "Himself." They call it Himself because, according to Royal Decree, the King was always referred to as 'Himself.' Since the cart is in the shape of an anthropoid (or human-shaped) coffin with both hands crossed in front (the sign of a king), the name is most appropriate.
After we spent some time at the "Himself" touch cart, my volunteer friend suggested I check out one of the demonstration stations scattered through the exhibits. These volunteer-run stations show science in action and allow for a little more hands-on approach. For mad scientists, the Chemistry demo area is the perfect place to talk about reactions (while playing with fire). For those with a passion for sparkly gems and their creation, the Rock Star gem polishing station is situated right inside Fabergé: From a Snowflake to an Iceberg. What better place to demonstrate what a facet or a cabochon is?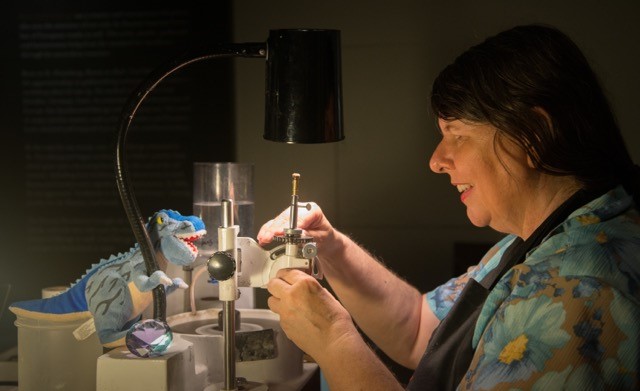 While it's not an everyday event, volunteers also help prepare and run the craft tables at the many member events throughout the year. I was able to hang out with Ben, a frequent volunteer at craft events, as we showed off a few crafts being prepared from upcoming and past special events.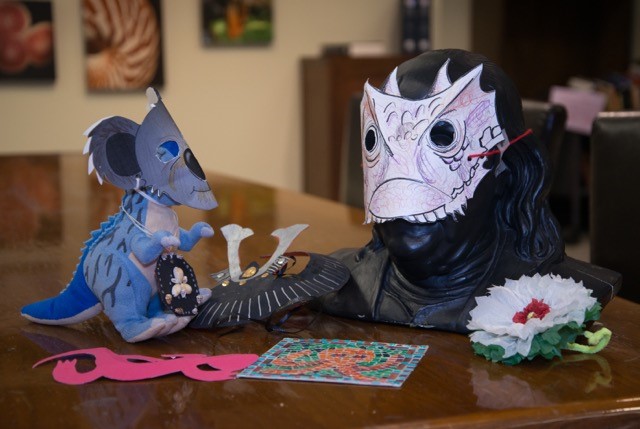 Before I knew it, I had spent the whole day with the volunteers! Not all volunteers spend a full day at the museum—and no one participates in, or knows, everything. Volunteers get to pick and choose what to do based on their schedule and interests. The one thing that all volunteers share though is a passion for learning, and a desire to share knowledge with others.
Interested in becoming a volunteer at HMNS? Check out the Volunteer page on the HMNS website for more information opportunities at HMNS' three locations, requirements, and application instructions. Interviews will open for new applicants beginning July 18, with the first school-year orientations scheduled for late August.
Until my next exotic adventure… see you in the halls!