Last week's featured #HMNSBlockParty creation is by Aileen and Adam Xu (ages: 14 & 17):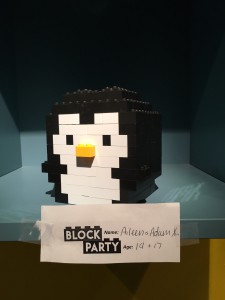 Want to get your engineering handwork featured? Drop by our Block Party interactive play area and try your own hand building a gravity-defying masterpiece. Tag your photos with #HMNSBlockParty.
Behind-the-Scenes Tour – Amber Secrets, Feathers from the Age of Dinosaurs
Monday, Apr. 11
6:00 p.m.
Amber Secrets, Feathers from the Age of Dinosaurs features over 100 specimens dating as far back as 99 million years ago. Plants, fungus, vertebrates and invertebrates such as insects, spiders, scorpions, snails, millipedes and centipedes are represented. Highlights include feathers and lizards encapsulated in amber. Each polished translucent gem provides a window to the time of the dinosaurs. Tour this special exhibition with a master docent in the evening while the Museum is closed to the public.
Class – Contain Yourself: Organic Gardening for City Lifestyles
Wednesday, Apr. 13
10:00 a.m.
You want to grow your own food, but your outdoor space is limited. What to do if you live in a townhouse with a small yard or an apartment with a balcony? Container gardening is your answer. Learn what kind of containers, soils and varieties of plants to use when growing fruit trees, herbs, vegetables and flowers.
Sponsored by Urban Harvest.
Family Space Day at the George Observatory
Saturday, Apr. 16
Blast into outer space on a simulated space flight to the Moon! The Expedition Learning Center at the George Observatory will be open for individual children and adults to sign up for missions. No danger is involved! Astronauts are assigned jobs aboard the Space Station Observer and work together as they solve problems and have fun. Volunteers who work at NASA will run the missions and visit with the participants. Don't miss this special opportunity to participate in real astronaut training!