translation by Ivan Perez
Felipe Gonzalez, known in the art world of Mexico City as Ferguz, is one of millions of North Americans inspired by the image of La Virgen de Guadalupe, but his fine art pushes the world-famous Mexican icon to its limits. Using a variety of media to create shimmering minimalistic variations on the traditional image, Ferguz's work is a captivating dance of color, texture and historical context. An example of his approach appears in the Houston Museum of Natural Science's newest exhibit, La Virgen of Guadalupe: Empress of the Americas. When Ferguz came to see it in context during opening weekend, we jumped at the chance to sit down and ask him about his work.
HMNS: Tell us about the piece of art that you have in the exhibit.
Ferguz: It is a painting of the Virgin of Guadalupe that I painted from my point of view. The painting has a base color of Mexican pink or a type of fuchsia, which I mixed with gold to represent the splendor of the Virgin, and towards the bottom of the painting where the cherub is located, I added my self-portrait as a way to integrate myself into the painting. It was a way for me to make the piece more contemporary and also more minimalistic.
HMNS: Why is la Virgen de Guadalupe so inspirational to you? Why did you choose to paint la Virgen?
Ferguz: She's always been an inspiration to me. I believe that Mexican Catholicism is really strong, as is the faith that is evoked by her, and as the saying goes, "Faith can move mountains." I've always been attracted to religious and spiritual themes, and my art has always reflected that.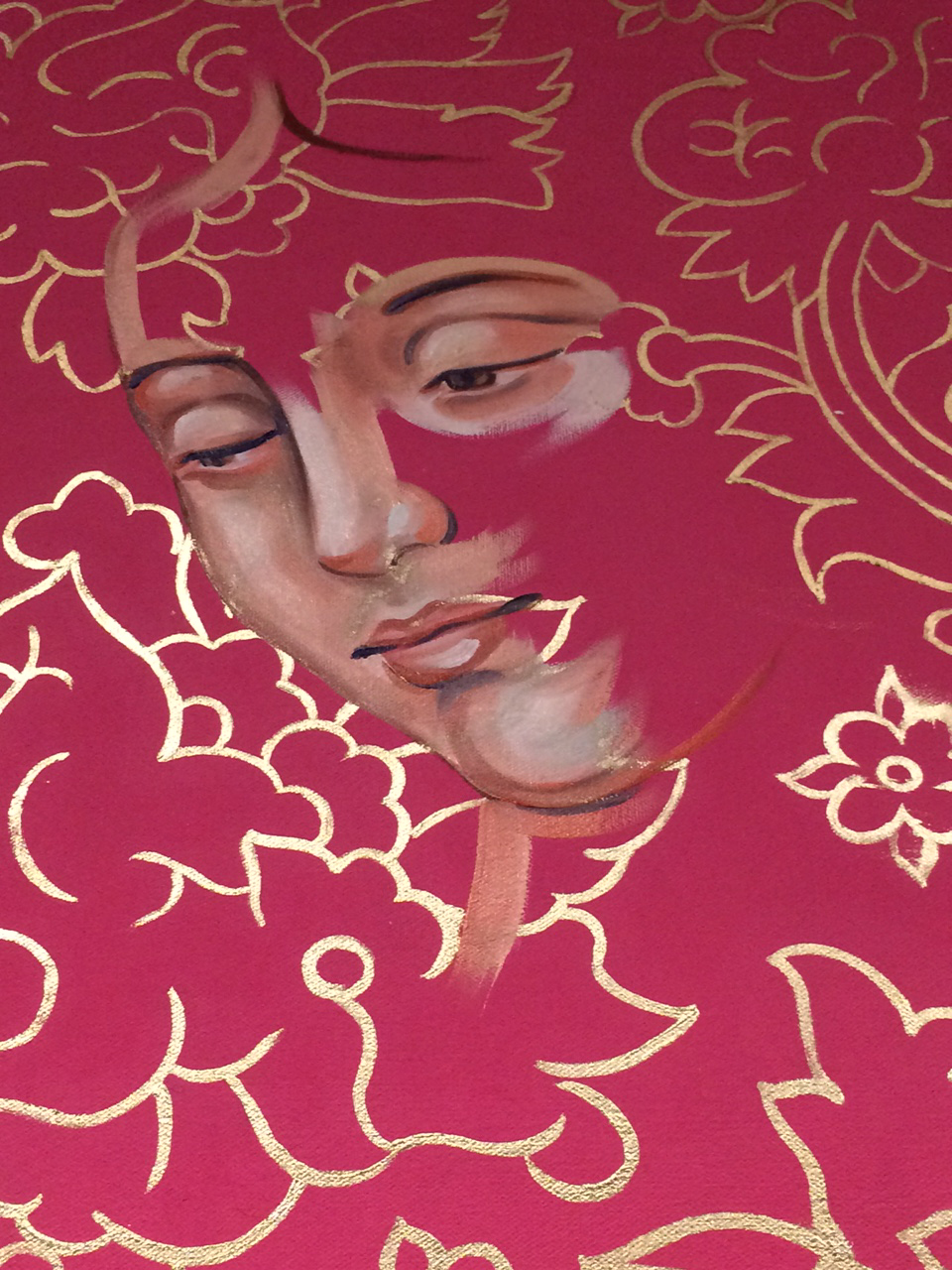 HMNS: How does it feel to have your work in a museum, especially in a natural science museum?
Ferguz: It is a huge privilege and an honor that I have been asked to have my work shown here. This is a huge and well-known museum and it is an honor to be here during the opening.
HMNS: Is HMNS well-known in Mexico?
Ferguz: Yes, everyone knows this museum because of the dinosaurs and the T. rex and because of the big exhibitions that come through.
HMNS: Do you feel that a more Hispanic population will be attracted to the museum with la Virgen de Guadalupe being here?
Ferguz: Yes, I believe so. It's a theme that, in Latin America, is followed by many people. The opening date, and the Feast Day of the Virgin of Guadalupe, is also very special, which coincides with my birthday, Dec. 12. This is one of the reasons why La Virgen is such an inspiration to me. So yes, I believe that the Hispanic community will have a positive response, and I hope that this exhibit will attract them to museums, so it's really good that the museum has decided to talk about this subject during this important date and to this community, which is very large.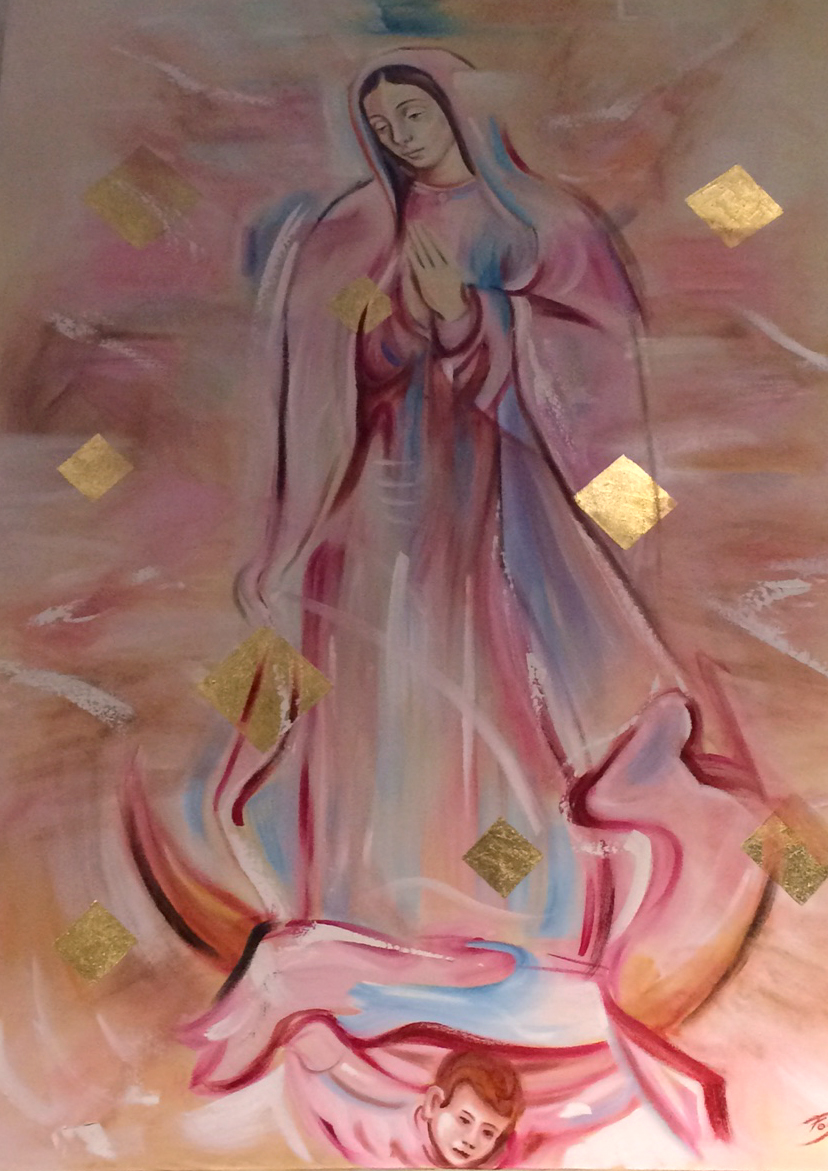 HMNS: Can you tell us about the process for your artwork? What materials do you use and what makes your artwork special?
Ferguz: The piece is oil on canvas and it's a process that I enjoy tremendously. I enjoy the work that is involved, and I have been doing art for over 10 years professionally and I am totally dedicated to it. I am proud of my work, and I am proud to be here showing it.
HMNS: Can you tell us a little more? How do you come up with the ideas?
Ferguz: I work with sketches, but Picasso said that inspiration should come to you when you are in the process. When I am working on one piece, I get inspiration for the next one. When I developed this piece for La Virgen, but with my voice, from my point of view it was a win because I love the topic and I wanted to do it. I wanted to do something contemporary, but with a minimalist point of view. I also wanted to use a base color of Mexican pink with the incorporation of the Virgin and I wanted to include myself in the piece and be a part of this exhibition, so I included a self-portrait that expresses the innocence of childhood and a time when humanity still feels a deeper sense of spirituality, which is why I decided to include myself in the painting.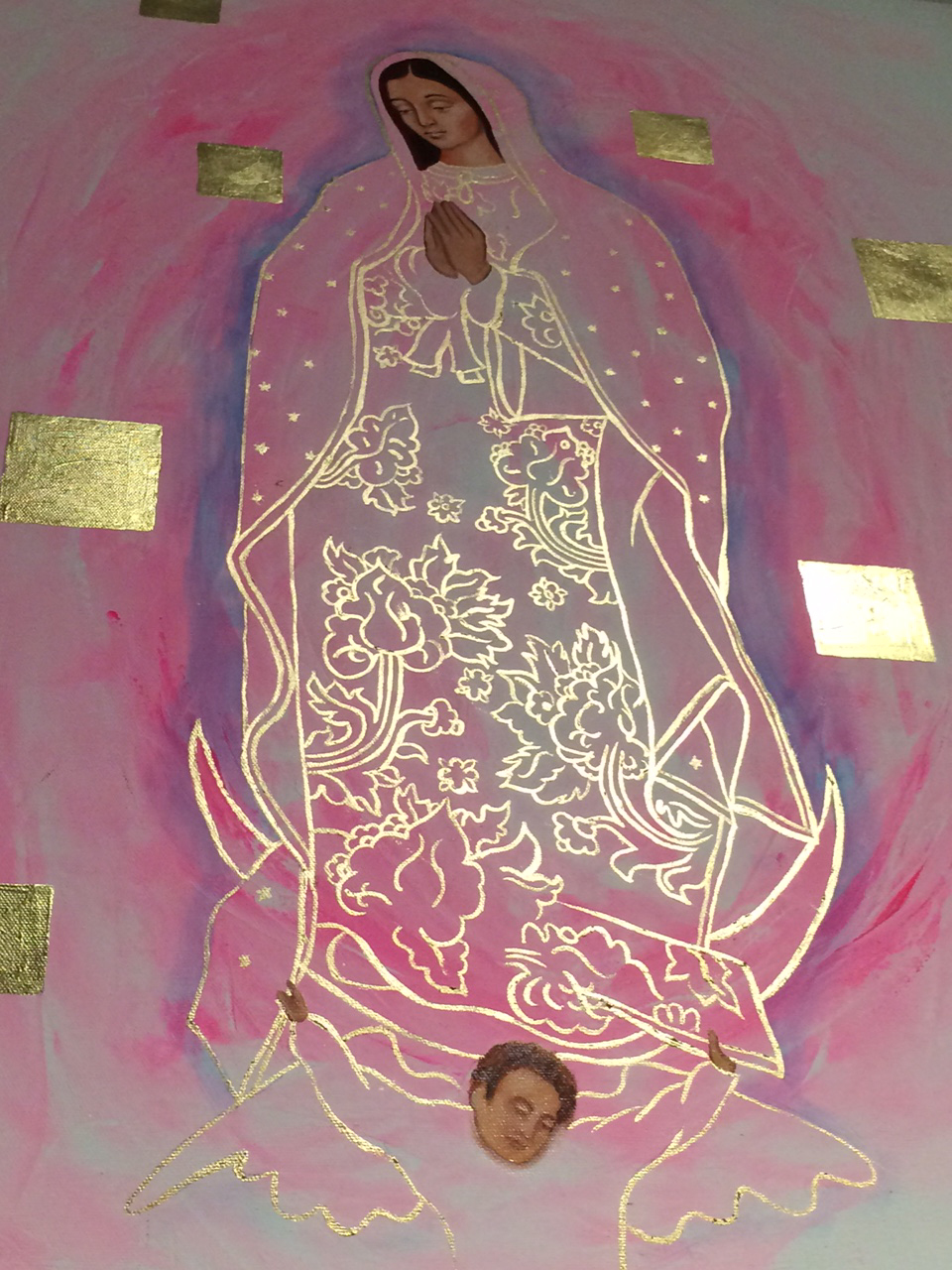 HMNS: Is there anything else you would like to add?
Ferguz: I would like to thank the museum for this great opportunity. Thank you very much.
La Virgen de Guadalupe: Empress of the Americas is now open, and Ferguz's work is available for purchase in the Museum Store.