Bust out your planners, calendars, and PDAs (if you are throwback like that), it's time to mark your calendars for the HMNS events of this week!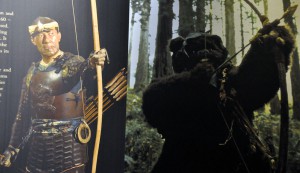 BTS – Hamman Hall Of Texas Coastal Ecology
Tuesday, August 18
6:00 p.m.
Discover the flora and fauna of the Texas coastline in the new Hamman Hall of Texas Coastal Ecology with HMNS master docents. Environmental characteristics distinct to the Texas coast, as well as critical habitats and opportunities for conservation and restoration will be covered. This after-hour tour will also include a walk through the adjacent Farish Hall of Texas Wildlife.
BTS – Jedi – Samurai Tour
Thursday, August 20
6:00 p.m.
Armored warriors of the past inspired the creative genius of a filmmaker-in a galaxy not so far away. In this multimedia tour of the Samurai, The Way of the Warrior exhibit–led by HMNS staff and a few guest Jedi, Sith and samurai guides–the origins of many of George Lucas' Star Wars heroes and villains will be unveiled. You will also enjoy demonstrations of light saber and kendo katana. The compelling links between Samurai and Jedi will build your appreciation for both.
Take Two: Back To The Future
Friday, August 21
7:00 p.m.
A young man is accidentally sent 30 years into the past in a time-traveling DeLorean invented by his friend, Dr. Emmett Brown, and must make sure his high-school-age parents unite in order to save his own existence.
George Member Night
George Observatory
Friday, August 21
8:00 p.m.
Enjoy an evening under the stars at the George Observatory inside Brazos Bend State Park. Expert astronomers are available to let Members look at a variety of celestial objects through the Observatory telescopes, as well as privately owned telescopes. Viewing is always weather dependent.
Back to School Sale 
Get 15% off your entire order + FREE shipping. Use promo code 15FREESHIP. Sale ends Sunday, August 23.