CliffsNotes: Thanks to all of you, we have done exactly what S.O.S. intended, and we saved our 'scope!
HMNS is proud to own the largest telescope in the country that is open to the public on a regular basis, the Gueymard Research Telescope. Many of you have come and enjoyed the night skies and looked through this amazing telescope at the George Observatory. But it needed some well-deserved TLC this past winter.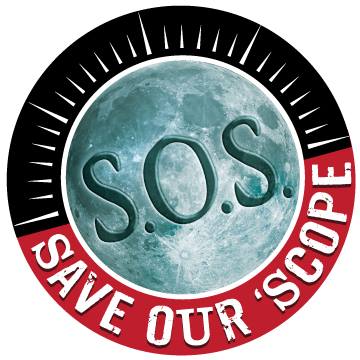 You saved it!
The donations to repair the Gueymard telescope ranged from pennies to $10,000, and came from families, individuals, children, companies and foundations!
Special thanks go to Dr. Reggie DuFour, who launched the campaign with a generous $10,000 donation. We are also extremely grateful to major donations from The George Foundation and The Henderson-Wessendorff Foundation. We were also given a generous donation from elementary students at Shady Oak Christian School, who sent us over the top with their $1,800 donation, which was collected from their annual fun run.
Why is the Gueymard telescope so important to us — and to you?

On a clear night, it is incredible to be able to see with your own eyes the many wonders of the universe. There are other, larger telescopes, but they are far away and they are only available to scientists who apply for time and get their projects approved. These large 'scopes use cameras which are then fed to an indoor area where scientists "look" with their computers. Here at the George Observatory, we think there is something very personal and magical about using your own eyes to look at Saturn or Jupiter or a galaxy far, far away.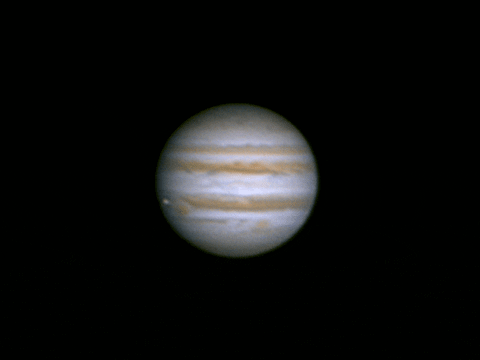 The 36-inch Gueymard mirror and dome were purchased from LSU in advance of the 1989 opening of the George Observatory. LSU had owned and operated the 'scope for 25 years in highly humid conditions, very similar to the ones in Brazos Bend State Park. Brazos Bend is a swamp and grassland, but it is also located conveniently about an hour away from light-polluted cities in and around Houston.
The unique relationship with Brazos Bend guarantees us a safe, dark place to view the skies. Most telescopes are put on top of mountains or out in dry deserts where the weather conditions allow for more nights of clear skies. When Halley's Comet returned in 1986, thousands of visitors lined up at the park wanting to see the comet. We knew then, if not before (and certainly now), that there is a high interest level in everything astronomical in Houston.
We believed that because the mirror had already lived in a swamp for 25 years, it should continue to do well in similar conditions. This was true for a long time. However, several years ago we noticed that we really couldn't see as well with the large scope. The mirror was becoming cloudy. In 2011, it was determined that the mirror surface had lost all reflectivity. After extensive research and phone consultations, the mirror was sent to Marian Schafer at Galco Electronics in Mesquite, TX. Galco, which is well-equipped to put coatings on mirrors, was selected based on its good reputation and, in part, its Dallas-area location – which allowed our volunteers to transport the mirror, saving shipping costs.
Mirrors are supposed to be shiny. This one was not.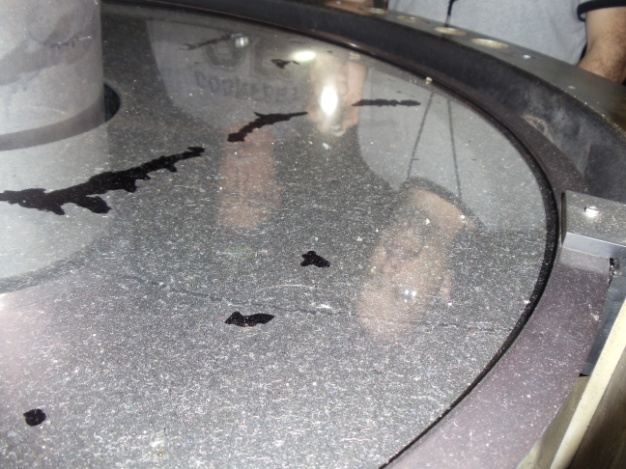 Starting in December 2011, Marian stripped, cleaned, baked and held the mirror under a vacuum five times to try to remove contaminants from inside thousands of small microscopic fissures found on the surface and interior of the mirror. In addition, there are numerous other bubbles throughout the glass mirror that can be seen with the naked eye. Galco used a sub layer of chrome as a binder and then put a final coating of aluminum. When this coating failed, titanium was applied as the binder in order to block leeching contamination.
It was understood that if the titanium was put on, the only way to remove it would be to regrind the mirror. The titanium coating failed, and did not bond to the mirror surface. This first attempt helped us to determine exactly what needed to happen next with the mirror.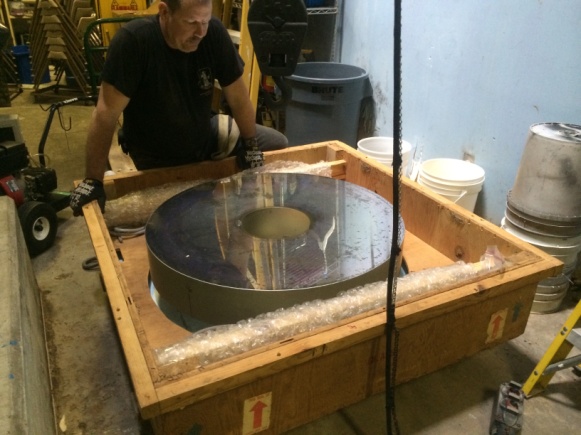 Time to hit the grind.
The next step to fix the telescope was to bring in an independent expert on a Ritchey–Chrétien designed telescope like ours. James Mulhernin, from Optical Mechanics Inc. (OMI) was flown here from Iowa. Mulhernin determined the composition of the glass as excellent quality Pyrex, and also determined that the microscopic fissures were artifacts from when the mirror was originally made almost 50 years ago. Over time, pollution and microscopic "gunk" in the fissures prevented a coating from sticking to the mirror.
Mulhernin's newer technology will allow us to re-grind the mirror and prevent any of these old issues from coming up again in the future. This is indeed great news for us here at the George Observatory.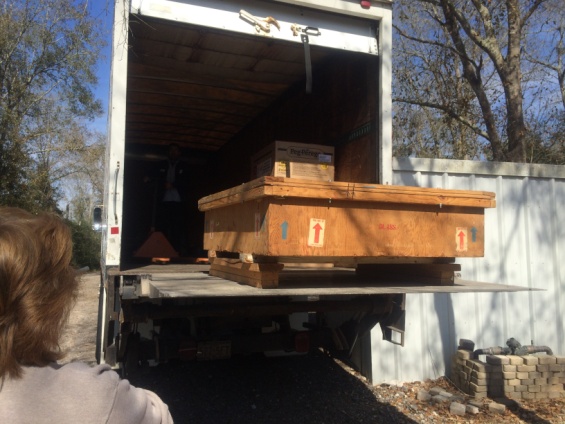 The mirror was shipped to OMI and is currently being serviced. Reports are all very positive.
While the mirror is gone, we can still use the amazing 11-inch refractor with near-perfect lenses mounted on the side of the big telescope. But that's another story as to how we removed a 458-pound mirror and can still remain open on Saturday nights!
Stay tuned for more updates on the repair progress, and start looking forward to the 25th Anniversary celebrations in October here at the George Observatory.