Are you an expert in enameling? An authority on artistry? Take this quiz to test your knowledge of all things Fabergé, and then learn more with a visit to our Fabergé: A Brilliant Vision exhibit!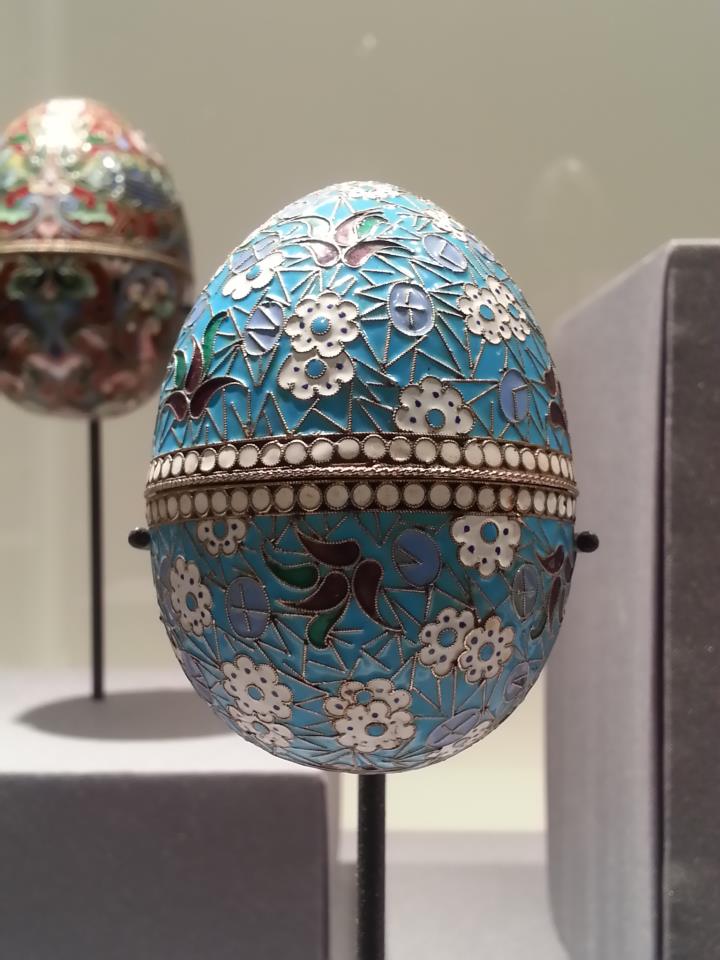 1. What "surprise" was inside the Imperial Egg created by Fabergé?
a.    Hen
b.    Elephant
c.    Clock pendant
d.    Picture frame
2. Carl Fabergé was:
a.    French
b.    German
c.    Russian
d.    British
3. Fabergé sold his items through:
a.    Retail stores in Russia
b.    Retail store in London
c.    By mail order
d.    All of the above
4. Where did Fabergé prefer to obtain his raw materials for his pieces?
a. China
b. France
c. Russia
d. South America
5. What do we call a Fabergé sold to deceive the buyer?
a. Fake
b. Fauxberge
c. Counterfeit
d. Phony
6. How many items did the Fabergé Company produce?
a. 150,000
b. Less than 1,000
c. 10,000
d. Approximately 1,000,000
7. Which of the following items did Fabergé make?
a. Obsidian Sea Lion
b. Gherkin (pickle) sent jar
c. Gum pot
d. All the above
8. What does the "Bonbonniére" mean?
a. Egg
b. Cigarette Holder
c. Candy Box
d. Scent Bottle
9. Which of the following techniques were used by Fabergé?
a. Cloisonné
b. Enameling
c. Guilloché
d. All of the above
10. Who of the follow did NOT produce items for the Fabergé Company?
a. Workmasters
b. Contracted Artists
c. Women
d. Cartier
11. Fabergé's Flower Studies were important to Russians because…
a. It reminded them of their childhood
b. Russia was a major exporter of lilies
c. It reminded them of the spring to come
d. It had important herbal qualities
12. Which of the following did Fabergé NOT produce items for?
a. The Imperial (Romanov) Family
b. The Russian Military during World War I
c. The Forbes Family
d. The Nobel Family
13. Which modern toy represents Fabergé's guilloché technique?
a. Etch-a-Sketch®
b. Lite Brite®
c. Spirograph ®
d. None of the above
14. On which holiday were the Imperial Eggs given to the Tsarina?
a. Christmas
b. Birthday
c. Thanksgiving
d.  Easter
15. Which of the following did Fabergé produce?
a. Circus Hippo
b. Swinging Parrot
c. Sea Lion on a Rock
d. All of the above
16. What does a Vesta Case hold?
a. Cigarettes
b. Matches
c. Headache tablets
d. Bullets
17. What was the purpose of the bell push?
a. To ring for a servant
b. To light the furnace
c. To announce your presence
d. None of the above
18. Which famous movie star is in one of the Fabergé picture frames at HMNS?
a. Lucille Ball
b. Michael Jackson
c. Bill Gates
d. Liz Taylor
19. Which of the follow Fabergé items could be found in an office?
a. Ruler
b. Pencil holder
c. Stamp holder
d. All of the above
20. Which of the following precious gems were used by Fabergé?
a. Diamonds
b. Sapphires
c. Rubies
d. All of the above
Are you a Fabergenius? Find out tomorrow when we post answers to today's trivia!