Last month Houston museums were buzzing more than usual during the American Association of Museums annual meeting.  It was a great time for all of us to show off our institutions to colleagues from across the country and the world.  In addition, Houston museum professionals had the opportunity to soak up a plethora of information about the latest discoveries, standards and issues in our field.  Keynote speaker Neil deGrasse Tyson from the Rose Planetarium in New York also gave us a lot to ponder.
And the HMNS staff was right in the middle of it.
In my last blog I posted about a session open to the public that Lisa Rebori put together.  She was also a panelist in a session which covered the federal indemnity program that enables so many wonderful temporary exhibits to travel around the country.  Lynn Wisda, Director of Volunteers, gave a presentation on the creative use of volunteers in collections.  Daniel Burch from our Adult Education program weighed in on interpreting current events for public audiences and Kathleen Havens from Youth Education shared how HMNS works with local homeschoolers.  Of course the Lois phenomenon of last summer deserved its very own session and Erin Flis, Brad Levy, and Zac Stayton related all the merriment to a thoroughly entertained audience.  (Ok, I'm biased, but this was one of my favorite sessions.  Thanks again Lois!)
So every single day of the meeting there was a HMNS staff member making the museum proud.
The Reinforcement Crew
However, it wasn't all dashing about inside the convention center.  The meeting is more than just sharing information and networking; often a real impact takes place.  Every year the Registrars Committee has a volunteer day in the host city the day before the meeting begins; it's called the Reinforcement Crew.  Collections management professionals from all around the country volunteer to come a day early and help out in local museum collections, usually smaller institutions that can use a little extra labor and expertise with a day long project.  This year these gracious folks, twenty volunteers, worked tirelessly to better our hometown museums.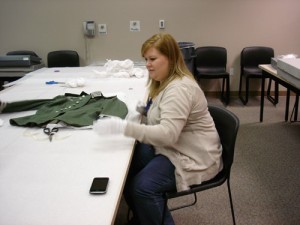 Bryanna at the Holocaust Museum
Starting last summer Carol Manley, Director of Collections and Exhibitions at the Holocaust Museum, and I set about the Houston museum community asking who might want help and what kind of help their collections might need.  It was very rewarding to be allowed to work with five local museum collections.
At the Buffalo Soldiers Museum a crew of four managed to identify, photograph and tag over two hundred objects.  The group working at the Printing History Museum inventoried 918 (wow!) printed music sheets and re-housed them in archival boxes.  HMNS Collections staff Bryanna O'Mara volunteered her expert sewing skills and textile expertise at the Holocaust Museum where they carefully rolled banners and folded WWII uniforms and hats in acid-free tissue and placed them in archival storage.
The volunteers at the Maritime Museum spent the day delicately cleaning ship models of all shapes and sizes.  But it was the good, not to mention hardy, folks who helped sort through collections in an un-air-conditioned section of the Fire Museum who deserve an extra round of applause.  (Yes, there were many comments made about being hot in a fire museum.)  None of this great work would have happened without Mark Ryan and Heather Kajic of the Registrars Committee who oversaw the organization of volunteers, donations of archival supplies, and every other logistic to pull the whole project off.
So while AAM and thousands of museum professionals left Houston weeks ago, there remains a lasting impact from these volunteers who selflessly and with much good fellowship left five Houston museum collections in better shape.
The Reinforcement Crew did all this without publicity or even much recognition of their efforts because they love museum collections that help tell our stories.  All of us at HMNS extend our heartfelt thanks to them for sharing their skills and time in our Houston museum community.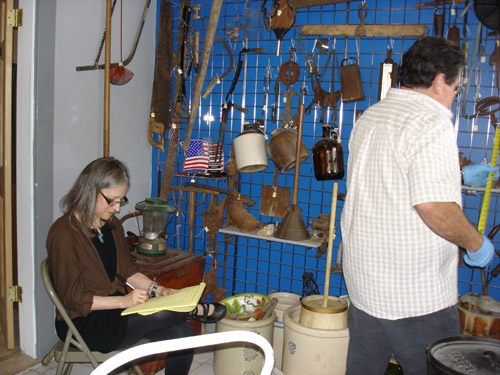 Reinforcement Crew at the Buffalo Soldiers Museum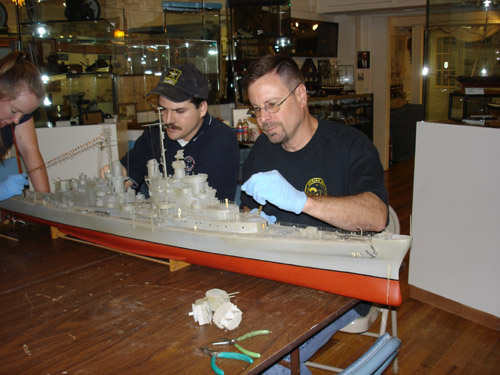 Reinforcement Crew at the Maritime Museum