We often receive pictures that look completely and totally alien and WEIRD to most people, but like good little Entomologists, we know exactly what they are! The picture sent in to us most recently from a gentleman in Deer Park is a two-for-one special!
Have you ever seen a very large green caterpillar with strange-looking white ovals protruding from it? Well, it's not just one insect, it's two.
The picture clearly shows a large green caterpillar with a horn on it's rear. It's a little blurry, but it's clearly a type of hornworm. Hornworms are the larvae of sphinx moths. Sphinx moth caterpillars are characterized by a horn-like appendage on their last segment, giving rise to the common name. This is more than likely a tomato or tobacco hornworm. These caterpillars can devastate plants in the solanaceae family (tomatoes, tobacco, potatoes, peppers, etc.), so they are considered a major agricultural pest.  Fortunately for farmers these two species are often attacked by a little monster which lies inside those weird white protrusions.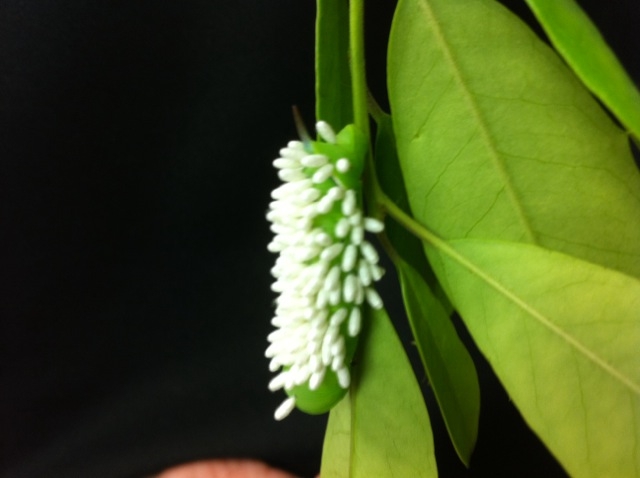 Braconid wasps are tiny parasitic wasps of which there are over 50,000 species. These wasps are our friends. They do not sting, but they parasitize some of our most damaging pests like caterpillars, aphids, and  beetle larvae.  They are mostly internal parasites and they can parasitize most any developmental stage of insects. There are even ones minute enough to lay eggs inside itty bitty eggs of insects, like aphids. Braconid wasps are very species-specific. The species of wasp that commonly attacks tomato and tobacco hornworms is called Cotesia congregatus.
The female lays her eggs just under the skin of  the caterpillar and within days the larvae hatch and start to eat the caterpillar from the inside. After about a week the larvae of the wasp drill a hole in the host's skin and form a silken white cocoon to pupate in. The cocoons are what you see protruding from the skin. If the caterpillar is still alive at this point, they don't have much longer. The adult wasps later emerge and fly off to mate and parasitize another caterpillar.
As gruesome as this sounds, it's all part of the delicate balance of nature. For every organism that exists, many others exist to keep their populations in check. This is the foundation of biological control. Biological control is a method that uses an insect's natural predators and parasites against them. Way better than chemicals!
So there you have it, another mystery solved! If you have a tricky bug you'd like identified, or even just a question that's been bugging you, send an e-mail to blogadmin@hmns.org. We'll take our best crack at it and feature your question or picture in our blog. Until next time, happy bug watching!