Born to be Wild 3d is an amazingly cute IMAX film about how two exceptional people (with the help of their teams) rescue orphaned baby elephants and orangutans and raise them. They help the animals overcome their loss and prepare them to one day be re-released into the wild. Today's blog post is about Dame Daphne, and the Nairobi Elephant Nursery she started in order to take care of orphaned elephants.
Nairobi Elephant Nursery
Since its inception, The David Sheldrick Wildlife Trust (TDSWT) has hand-reared more than 130 orphaned elephants. Dame Daphne has trained over 50 keepers to rescue and rehabilitate the elephants, with the goal of releasing them back into the wild population of Tsavo's National Park.
From the moment they arrive, the orphans are very fragile, both physically and emotionally. Dame Daphne explains, "When a new elephant comes to the nursery, they are terrified and more often than not emaciated. They've not only lost their mothers but their entire family. We've also had to capture them and transport them on a plane so they're completely traumatized. Once they get to the nursery, the most urgent task is to check their state of health and, to do that, we must first calm them down and begin to instill a sense of trust. Most of all, they have to want to survive."
Perhaps most crucial to that survival is nourishment. They need milk. After years of trial and error, Dame Daphne developed a mixture to act as a replacement for an elephant mother's milk. She details, "At first we couldn't get the formula right as elephants cannot process cow milk, so we got samples of elephant milk analyzed and discovered it was very high in fat. But it couldn't be just any sort of fat. We kept trying different variations until we found a type of human baby formula that seemed to be working and continued adding other ingredients, like coconut milk, and finally got it right. We also found that some orphans like to drink their milk from under a blanket. The rough fabric reminds them of their mother's body, it feels natural to have somewhere to rest their trunks while they suckle, so that helps to soothe them."
Elephants are also extremely social, so having other elephants nearby helps to quiet the new orphans, like Sities, who is featured in the film.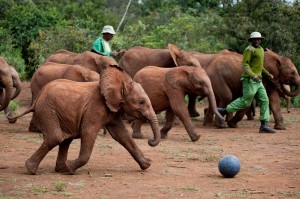 In this respect, the caregivers are also an integral part of the equation. The staff, which comes from different tribes and different backgrounds, have found a common purpose working together to save elephants. The keepers not only spend their days with their charges; they tuck the elephants in at night and sleep beside them in their stalls. David Lickley, director of Born to Be Wild 3D, affirms, "When you watch the keepers with the elephants, you instantly see the intense emotional impact they have on each another." Because the elephants and their human caregivers must eventually part ways, the keepers are rotated among TDSWT's three orphan facilities so the elephants don't become too attached to any one man, as this would create problems should he ever be absent.
A big part of the elephants' recovery regimen includes enrichment activities like wrestling and mud baths.
Lickley says, "They love to playfully bump up against you and they like games, too. We were able to film this crazy soccer game, with three balls bouncing around, elephants trumpeting, people hooting and hollering, and dust flying up. There are obviously no rules, but everyone was having a great time."
Make sure to check back next month to learn about the Camp Leakey Research Station, where Dr. Galdikas raises orphaned orangutans in Borneo. You can purchase your tickets online by clicking here.