Last week we received a photo of a very bizarre looking insect from Melissa who lives in the Seattle area. I had an idea of what it was when I opened the file, but it was a bit of a head scratcher!
For the most part, all insects in a particular order share the same distinguishing characteristics and it's easy (for me) to tell what group they belong to. Grasshoppers look like grasshoppers, butterflies like butterflies, wasps like wasps, etc. But there are some exceptions to the rule. Some moths mimic beetles, some flies mimic bees, and some insects just look like 3 different things at once! This was the case with the bug Melissa found.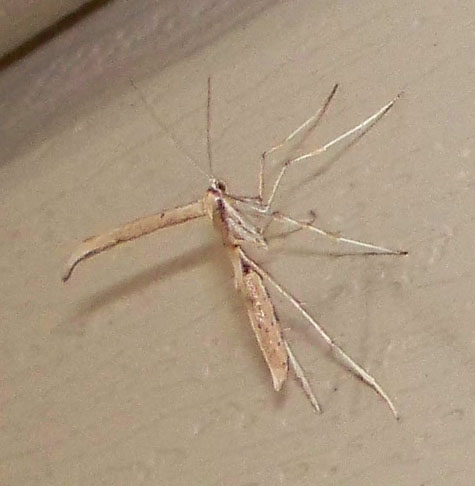 Photo by Melissa Mashock
It is a very alien-like creature called a plume moth. Plume moths do not look like the typical moth or butterfly. But then again, since there are about 250,000 species (10 times the amount of butterflies) of highly variable insects known as moths, there really isn't a typical moth.
At first glance, a plume moth resembles a crane fly. You know those large clumsy flies you see in the spring, whose legs fall off if you look at them wrong. They have very thin wings that are divided into lobes. The forewings typically consist of two lobes and the hindwings have 3.  At rest, many species hold their wings straight with the lobes folded together, making them look like a "T." There are 154 species of these moths found in north America, making species identification very difficult and often requiring a microscope. The adults are quite inconsequential and can go relatively unnnoticed. They're often mistaken for a bit of dead grass! This allows them to be easily overlooked by potential predators and most other things.
Luckily Melissa noticed this one enough to snap a picture so we could learn about this cool insect. The caterpillars are the most significant life stage and can be pests on some crops such as artichokes and ornamentals such as geraniums and snapdragons. On the other hand, they have been used as biological control to combat invasive plants such as West Indian lantana.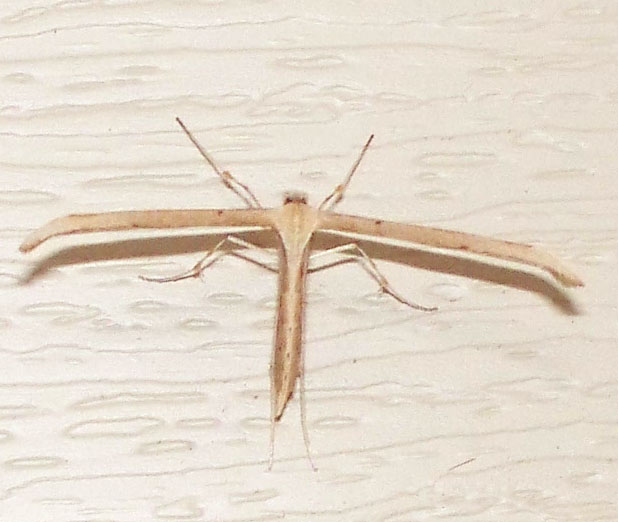 Photo by Melissa Mashock
Even though I'm an entomologist, there are a million described species of insects, most of which I've never seen. I always love the challenge of identifying different species that people find in their particular corners of the world. Then I can add another species to the list of ones I know about. And by reading, you can too!
I encourage everyone to spend some time outside observing the smaller things that are out there. If you find something that interests you, snap a picture, and send it in to blogadmin@hmns.org. We love to receive these kinds of queries! We'll identify and feature your bug in our blog.
Until next time, happy bug watching!