From Dr. David Alexander, Rice Professor of Physics and Astronomy and creator of the Space Frontiers Lecture series: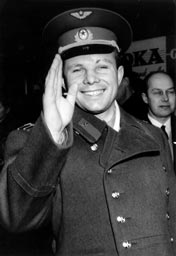 Yuri Gagarin
This month celebrates a number of notable anniversaries associated with space exploration.  Tuesday, April 12 marked the 50th anniversary of Yuri Gagarin's historic flight to become the first human to travel in space.  Coincidentally, that same day marked the 30th anniversary of the launch of the first Space Shuttle.  Two historic landmarks in our quest to expand the boundaries of our home planet.  For those of you who are interested, April 12 also marked the 134th anniversary of the first use of a catcher's face mask in baseball as well as being the date on which the American Civil War began.
In the 50 years since that first flight over 520 humans have ventured out of the Earth's atmosphere, some for a few days, some for several months, some even went to the moon (and back!).  In fact, there has been an American stationed in space every day for over 10 years!  Needless to say conditions on the moon or on board the space shuttle or International Space Station are quite different from here on Earth with the most striking difference being the microgravity environment in which the astronauts or cosmonauts have to live.
Over the last five decades we have learned a lot about what being in space does to the human body from a wide array of phenomena such as bone loss, muscle atrophy, and radiation exposure.  How does space travel affect humans?  How do we mitigate these effects? How do we prepare for longer and longer space shifts? Experimental stations on the moon and Mars could mean hardy astronauts being away from home for years at a time.
On April 21st, in the final Space Frontiers Lecture of the 2010-2011 academic year, Rice University will host Dr. Bobby Alford, who will discuss the medical and biological aspects of space travel.
Dr. Alford is CEO and Chairman of the National Space Biomedical Research Institute, a Distinguished Service Professor at Baylor College of Medicine, where he is also Professor of Otolaryngology.  Dr Alford has also served with distinction on the White House "Blue Ribbon" Advisory Committee for the Redesign of the Space Station, The Aerospace Medicine Advisory Committee (Chairman), The Life and Microgravity Sciences and Applications Committee (Chairman), and the Life Sciences Advisory Committee.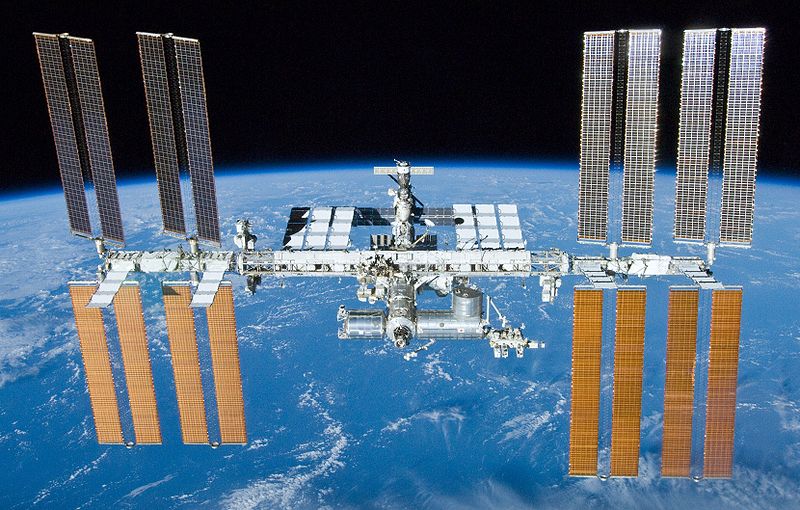 International Space Station
Please bring your bones and muscles to the 1g atmosphere of the McMurtry auditorium on April 21!  See spacefrontiers.rice.edu for details.