"…a wise and prudent administration in the commencement of her national existence will be universally expected; improving upon the difficult and delicate task of settling in complete and successful operation a political body based upon principles so hazardously asserted and so gloriously maintained."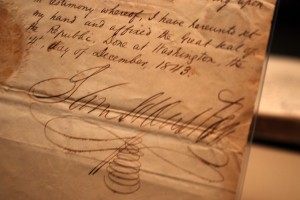 Sam Houston's signature
The above quote could easily be attributed to any number of government entities that have arisen since 1776.  In fact, I wager that it's applicable to many political upheavals we're following in 2011.  At least, that what struck me as I recently read this historical document.  The phrase that was deliberately omitted from the quote is this, "For Texas."  It comes from a letter President Sam Houston wrote to Edward Hall on November 3, 1836 from the town of Columbia.  You can see this letter yourself in our recently opened Texas! exhibit.
If there is any thread to my occasional posts as a HMNS registrar, it is that the connection between an object and a viewer influences the viewer in some way.  As someone whose professional life consists largely of dealing with objects, I am not unfamiliar with the concept.  My collections and exhibits colleagues and I are always keenly aware of the care and respect employed when handling museum objects.  So sometimes we can temporarily lose sight of an object's scientific/ historical/ aesthetic/ educational value when we're trying to ensure that its mount is supportive, the lighting levels aren't harmful, the proper temp and humidity of a gallery/case environment is steadily maintained; in short that nothing goes wrong.  However, being Texas born and bred, I found it difficult not to get caught up in the emotional wow! factor of the items in this exhibit.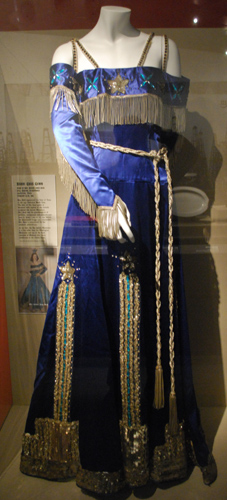 Audrey Jones Beck's Mardi Gras Dress
I'll readily admit that I inwardly groaned when I saw all the documents that needed condition reports at the start of the exhibit installation. Paper documents are delicate and fragile so we mostly viewed them through mylar sleeves, but even that method still needs an abundance of caution. It wasn't a job we could zip through. And once again I marveled at the miracles a conservator can perform to mitigate the damages of time.
But over and over I found myself drawn into the words on the page, especially when they were handwritten and signed. In the letter quoted above, Sam Houston goes on to delineate his cabinet members. As I read the names my decidedly low-brow reaction was: well, geez, that's half the streets downtown. Somehow I never knew that Rusk was the Secretary of War. While perusing the pages of the minutes of the Convention of Texas Independence, I started making connections with my travels throughout the state. The list of attendees is basically a roll call of the counties in this state. Sometimes the words would just sing and I had to take a moment.
Here's a brief quote from page 24 of the minutes that I particularly like:
"…that unless a people are educated and enlightened, it is idle to expect the continuance of civil liberty or the capacity for self-government."
Also in the minutes, directly following the declaration of independence, is the appointment of a committee charged with immediately getting the declaration to a printer for wide distribution. Communication is important no matter what era a revolution takes place but the distance between the printer's broadsides of 1836 and the revolutionary tweets of 2011 is amazing, isn't it? Not to mention the difference between putting quill to paper and tapping thumbs to glass screens. Which reminds me of something else I noticed through this long (fifty-four plus pages) document, the handwriting was remarkably clear and beautiful to start, towards the end the poor secretary's hand was beginning to sag. It was a long convention.
Other documents provoked equally strong but completely opposite reactions. As one colleague pointed out, "We're all creeped out by the slavery stuff." Documents are made on paper but it's the actual words that matter. So, yes, it's pieces of paper from the Harris County tax office but those dry and orderly tax receipts for humans beings considered personal property right here in our now very diverse cosmopolitan city will always retain a repulsive taint. That's why it's important to include them in this exhibit.

Davy Crockett's Violin
But enough already about documents! Let's go on to random 'wish we'd snapped a photo' installation moments.
The faces when folks first saw the turkey dress, a combo of wow! and how the heck are we going to display that thing? Beth and Mike struggling with the San Jacinto Mardi Gras dress, dress waist too tiny, mannequin hips and shoulders too wide, Mike taking a hammer to the nude mannequin in an attempt to narrow said mannequin, suggestions made that our skinniest staff member just stand in the exhibit wearing the dress, sanity returns, new mannequin ordered. (Audrey Jones Beck truly was 'a mere slip of a girl' when she wore that thing.)
Rodney 'age-ing' the canvas of the Santa Anna tent prop in his backyard. Looking inside the proper right sound hole on Davy Crockett's violin and seeing penciled "FRANKLIN CO./Feb.14, 1819," then realizing that the date the violin was being examined was February 14, 2011.
Small things can humanize historical figures. Santa Anna was definitely a cruel harsh man but his fawn paperweight is unexpectedly goofy and charming. The small wood heart whittled by Sam Houston is a tender link to the monumental figure across the street from the museum's doors.
Beth happened across a list of clothing in Anna Chase's journal who may have been a spy but according to that wardrobe inventory was also something of a clothes horse. Trying not to hum "Old Man River" (Lift that bale!). The cotton bale is the traditional five hundred pounds, no mount needed. Most disappointing moment for yours truly during the exhibit installation was learning that due to curatorial decision the way cool children's cap guns from the 1940s and 50s were cut from the exhibit. Man, they had Texas Rangers emblems on 'em and really worked and everything! Dang.
So that's a few behind the scenes moments from the Texas exhibit.  Many people worked tirelessly on this exhibit and the gracious lenders were very generous with their treasures.  It wouldn't have happened otherwise.
But one last thing… On that letter from Sam Houston to Edward Hall which started off this post, in the viewer's upper left corner an unknown hand exuberantly wrote "Save this!"  Whoever scribbled that was absolutely right and I like to think it was an early forebear of a museum collections worker.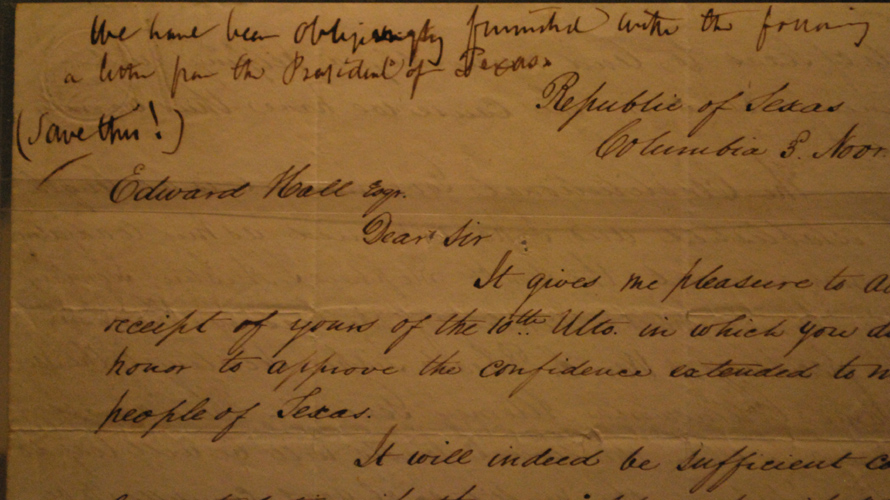 Letter from Sam Houston to Edward Hall with the phrase "Save This."
Don't miss these famous objects and more that make up our Texas! exhibition, now on display at the Houston Museum of Natural Science.